Charlie Louvin passed away early Wednesday morning at his home in Wartrace, Tennessee. He was 83 years old.
With his brother Ira, he began his career as one half of the Louvin Brothers. The legendary duo's harmonies were as complex as they were haunting, delivering many of hillbilly country's most forlorn love songs, gospel musings, eerie murder ballads, and winking story songs on albums including "Tragic Songs of Life," "Satan is Real," and so many more.  Their influence surfaces clearly in a diverse collection of artists spanning hardcore honky tonkers and indie roots royalty, from Emmylou Harris and Gram Parsons to the Raconteurs.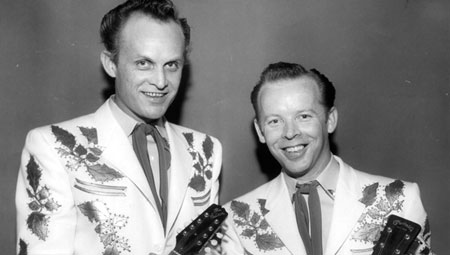 Pictured above are the Louvin Brothers, Ira and Charlie.
A BMI Award-winning songwriter, Mr. Louvin co-wrote classics including "If I Could Only Win Your Love," which has generated more than one million performances in recordings by Emmylou Harris and the Louvin Brothers themselves. He also co-composed "When I Stop Dreaming," which was recorded by George Jones and Tammy Wynette, Emmylou Harris, Hank Williams, Jr., the Louvin Brothers, and others.
Mr. Louvin also soared as a solo artist, serving as a favorite member of the Grand Ole Opry. Along with Ira, he was inducted into the Country Music Hall of Fame in 2001. In 2004, tribute album "Livin', Lovin', Losin': Songs of the Louvin Brothers" featuring James Taylor, Merle Haggard, Dolly Parton, and Johnny Cash garnered two Grammys. His last studio album, "The Battle Rages On," was released in November 2010, and also won waves of acclaim.
"I was saddend to hear of the passing of Charlie Louvin," says longtime BMI songwriter Doyle Lawson. "We've lost another pioneer in country music. I firmly believe that Charlie and his brother Ira influenced harmony singing in country music that is unequaled. I for one have been a Louvin Brothers fan since the early 50's . I tell folks who want to learn to sing harmony to play a Louvin Brothers cd and try to put the 3rd part with them. What a legacy he has left. My sincere condolences to his family."
Charlie Louvin is survived by his wife Betty, and three sons, Charlie Jr. (Sonny), Glenn and Kenneth.