Bobby Rush, Irma Thomas, Koko Taylor and More Honored at 2008 Blues Awards
BMI songwriters staked a claim to the vast majority of the 2008 Blues Awards handed out in Tunica, Mississippi May 8. The ceremony's inaugural staging in Tunica prompted excitement and sense of expectancy, and was heralded by many as a triumphant return to the cradle of the blues. Legends including Bobby Rush, Irma Thomas and Koko Taylor numbered among the night's big winners, while revered instrumentalists basked in the spotlight and soul, contemporary and historically-inspired projects received due recognition.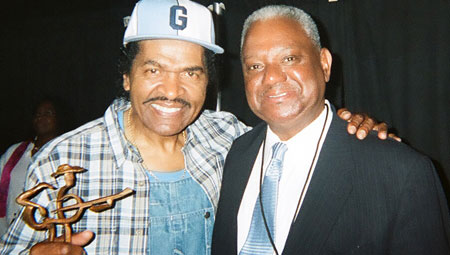 Bobby Rush (left) shows off one of his new trophies with BMI's Thomas Cain (right).
Bobby Rush's wins for Acoustic Blues Artist and Album of the Year arrived on the strength of his 2007 release, Raw, while Irma Thomas earned the Soul Blues - Female Artist of the Year crown. Koko Taylor's slew of trophies underscored her continued relevance: Traditional Blues - Female Artist, Blues Song and Traditional Blues Album of the Year all went to the "Queen of the Blues."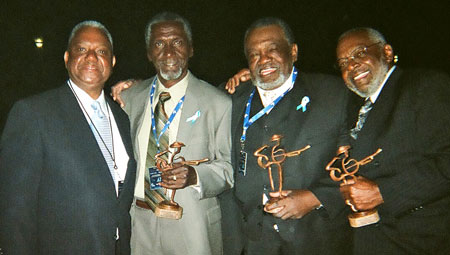 BMI's Thomas Cain (far left) snaps a photo with winners The Holmes Brothers.
In addition to a Contemporary Blues Album of the Year win for Painkiller, acclaimed vocalist and guitarman Tommy Castro received the prestigious B.B. King Entertainer of the Year Award, while the coveted Pinetop Perkins Piano Player of the Year Award went to Honey Piazza. The Holmes Brothers' State of Grace also garnered Soul Blues Album of the Year honors for the beloved group, while musicians Robert Randolf, Bob Stroger, Kim Wilson, Bob Margolin and Deanna Bogart all took home awards touting mastery of their respective instruments.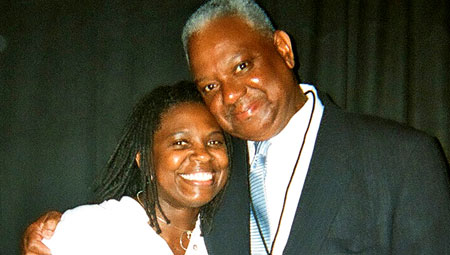 Performer and nominee Ruthie Foster (left) pauses for a shot with BMI's Thomas Cain (right).
The night prior to the Blues Awards event, the Blues Foundation held its induction ceremony for the Blues Hall of Fame, honoring the individual achievements of guitarists Hubert Sumlin and Johnny "Guitar" Watson, pianist Jimmy McCracklin, singer Jimmy Weatherspoon, pre-WWII string band the Mississippi Sheiks, and country blues performer Peetie Wheatstraw.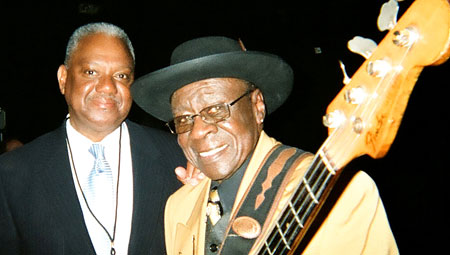 BMI's Thomas Cain (left) and bassist of the year Bob Stroger (right) smile for the camera.
The Blues Foundation was formed in Memphis in 1980 as a non-profit organization to preserve the rich heritage of the blues and promote excellence in blues music. Consisting of over 160 affiliated organizations worldwide, The Blues Foundations sponsors the annual Blues Music Awards, The International Blues Challenge, and the organization's "Blues In The Schools" educational program. For more information on the foundation's programs and history, please visit www.blues.org.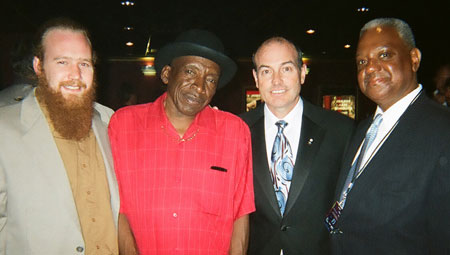 Pictured are (l to r): the Kilborn Alley Blues Band's Chris Breen, Abraham Johnson, Blues Foundation's Jay Sieleman and BMI's Thomas Cain.
All BMI 2008 Blues Awards Winners

Individual Award Winners
Acoustic Blues - Artist of the Year
Bobby Rush

Contemporary Blues - Male Artist of the Year
Tab Benoit

Soul Blues - Male Artist of the Year
Bobby Rush

Soul Blues - Female Artist of the Year
Irma Thomas

Traditional Blues - Female Artist of the Year
Koko Taylor

Traditional Blues - Male Artist of the Year
Hubert Sumlin

Blues Instrumentalists
Best Instrumentalist - Bass
Bob Stroger

Best Instrumentalist - Guitar
Bob Margolin

Best Instrumentalist - Harmonica
Kim Wilson

Best Instrumentalist - Horn
Deanna Bogart

Best Instrumentalist - Pedal Steel
Robert Randolph

Award-Winning Recordings
Acoustic Blues Album of the Year
Bobby Rush - Raw (Deep Rush Records)

Blues Song of the Year
Koko Taylor - "Gonna Buy Me A Mule"

Blues DVD of the Year
Kenny Wayne Shepherd - 10 Days Out: Blues from the Backroads
(Reprise Records)

Contemporary Blues Album of the Year
Tommy Castro - Painkiller (Blind Pig Records)

Historical Album of the Year
Muddy Waters & Johnny Winter - Breakin' It UP, Breakin' it DOWN
(Epic/Legacy Recordings)

Soul Blues Album of the Year
The Holmes Brothers - State of Grace (Alligator Records)

Traditional Blues Album of the Year
Koko Taylor - Old School (Alligator Records)

Special Awards
Pinetop Perkins Piano Player of the Year Award
Honey Piazza

B.B. King Entertainer of the Year Award
Tommy Castro