BMI to Provide a Hard-Hitting Showcase at CMJ
BMI has announced the performers at its sponsored CMJ Music Marathon Festival showcase, to be held on Thursday, October 18 at 2:00 p.m. A diverse line-up of talent will hit the stage at Rockwood Music Hall (196 Allen St, NY, NY 10002), continuing CMJ's 32-year history of celebrating new music first. Entry is free for CMJ badge holders and non-badge holders. To RSVP, click here.
The line-up at the BMI/CMJ showcase will include five auspicious acts: soul siren Grace Weber; synth wranglers Wild Cub; electro-pop alchemists Clementine and the Galaxy; 80's pop infusers Blondfire; and rock/pop experimentalists Beast Patrol.
"CMJ is an ideal festival for identifying and discovering new talent in an intimate setting," said Samantha Cox, Assistant Vice President, Writer-Publisher Relations at BMI. "Aligning with CMJ provides an invaluable opportunity and platform for BMI songwriters to expose their music to broader audiences. We are delighted to support this dynamic event."
For up-to-date information on BMI and the CMJ event, follow us on Twitter at http://twitter.com/bmi. The schedule for the BMI-sponsored CMJ Marathon Music Festival show is as follows: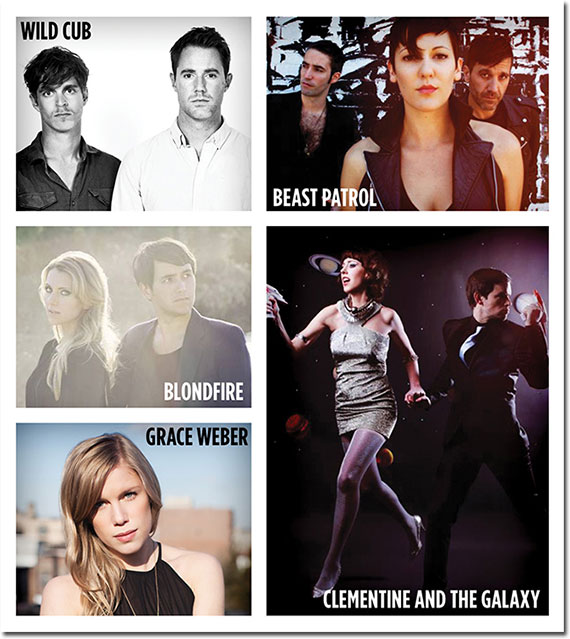 About the Performers:

2:15 – 2:45 p.m. - Grace Weber:
Grace's disarming beauty and soulful voice have led to her performing on "The Oprah Winfrey Show," "Showtime at the Apollo," and "The Today Show." After leaving Milwaukee and a stint at NYU, she enlisted the help of Grammy Award-winning producer Mike Mangini to help craft her debut album, "Hope & Heart." When she's not touring, Grace is prepping for her sophomore release.
2:45 – 3:15 p.m. - Wild Cub:
Wild Cub is centered on film composer and singer/songwriter Keegan DeWitt and multi-instrumentalist Jeremy Bullock. They toured most of 2011 under DeWitt's name, but returned home with a new name, and inspiration for their album, "Youth," a simmering mix of bass, synthesizers, drums and urgent vocals.
3:30 – 4:00 p.m. - Clementine and the Galaxy:
Nominated for Best New Artist for 2011 by Deli Magazine, Clementine and the Galaxy is a collaboration between acclaimed vocalist Julie Hardy and producer/guitarist Mike MacAllister. With their unique brand of electro pop, you'll be able to hear influences by artists such as Miike Snow, Chairlift, Florence & the Machine and James Blake.
4:30 – 5:00 p.m. – Blondfire:
That push-pull of elemental forces is fundamental to Blondfire's sound. Winsome, melancholy vocals and '80s-influenced melodies float atop shards of guitar and propulsive beats, leavening Blondfire's infectious pop tunes with real punch. Alternately haunting and ebullient, their Warner Bros Records debut album "Young Heart" represents the purest example yet of Blondfire's unique musical hybrid.
5:15 – 5:30 p.m. – Beast Patrol:
Brooklyn-based Beast Patrol have a unique story on its conception: VBley moved in with Manthony, and they both met Captain Granata at a revolutionary show powered by bicycles in Union Square. Spawned from that union is an amalgamation of sounds, reflected in their new EP, "Fierce and Grateful."
Listen on Spotify:
About CMJ:
Artists, music fans, and industry insiders descend on New York City every fall for the annual CMJ Music Marathon. The festival is one of the world's most important outlets for the discovery of new music, with more than 1,300 performers given a chance to shine in over 80 nightclubs and theaters spread across the city. The CMJ Music Marathon offers an up-close opportunity to see future stars on the rise, often in an intimate setting that artists are about to leave behind.