BMI Songwriters Win Big at 2011 Ivor Novellos
BMI's international songwriting family enjoyed a big night at the 56th Ivor Novello Awards, the august ceremony celebrating the writers behind the UK's most finely crafted hits of the year. While many UK writers are members of their home country performing right organizations, BMI represents them in the United States through reciprocal agreements with those sister societies.
"Becoming a Jackal" was named Best Song Musically and Lyrically. Recorded by Irish outfit Villagers, the song was written by frontman Conor O'Brian, who is a member of Irish Music Rights Organization (IMRO). Best Contemporary Song went to Tinie Tempah's "Pass Out," which he co-wrote with Timothy McKenzie. Both hit-makers are members of PRS for Music.
BMI Icon Steve Winwood earned Outstanding Song Collection honors, while influential rocker Paul Rodgers received the prestigious PRS for Music Outstanding Contribution to British Music award. Composer Michael Nyman garnered the Ivors Classical Music Award in recognition of his prolific career, while British rapper Dizzee Rascal took home the Ivors Inspiration Award. Winwood, Rodgers, Nyman and Rascal are each members of PRS for Music.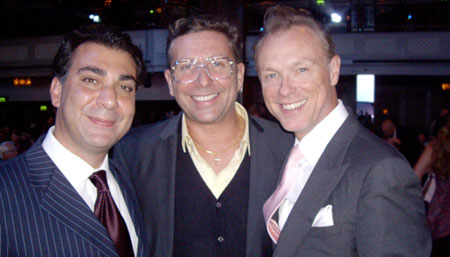 Pictured at the 56th Ivor Novellos are BMI's Brandon Bakshi, GeeJam's Jon Baker, and songwriter Gary Kemp (PRS).
BASCA, in association with PRS for Music, presented the 56th Ivor Novello Awards on Thursday, May 19 at the Grosvenor House, London. For more information, please visit theivors.com.
56th Ivor Novello Awards
BMI Winners

BEST SONG MUSICALLY AND LYRICALLY
Song: Becoming a Jackal
Writer: Conor O'Brien (IMRO)
Performed By: Villagers
UK Published By: Domino Publishing Company

BEST CONTEMPORARY SONG
Song: Pass Out
Writers: Timothy McKenzie (PRS) / Patrick Okogwu, aka Tinie Tempah (PRS)
Performed By: Tinie Tempah
UK Publishers: EMI Music Publishing / Stellar Songs Ltd

OUTSTANDING SONG COLLECTION
Steve Winwood (PRS)

PRS FOR MUSIC OUTSTANDING CONTRIBUTION TO BRITISH MUSIC
Paul Rodgers (PRS)

THE IVORS CLASSICAL MUSIC AWARD
Michael Nyman (PRS)

THE IVORS INSPIRATION AWARD
Dizzee Rascal (PRS)