BMI Participation Boosts Jazz Appreciation Month
BMI is proud to once again be an anchor sponsor of Jazz Appreciation Month, to be celebrated throughout April. The month-long celebration pays tribute to jazz as a true American art form and features a variety of activities, including performances, film and displays in venues around Washington, D.C. BMI's Robbin Ahrold plays an active role in the proceedings, representing the company at a number of related events.
More information about Jazz Appreciation Month is available in the press release below.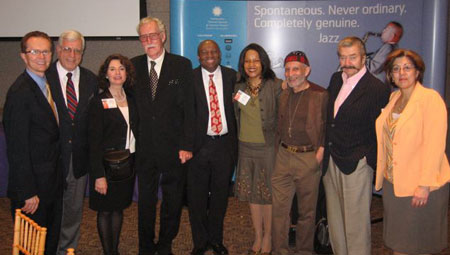 John Hasse, Director of Music at the Smithsonian, BMI Corporate Relations Vice President Robbin Ahrold, Rona Sebastian (President, Herb Alpert Foundation),legendary jazz photographer and donor William Claxton, Stanton Davis (American Federation of Musicians), Sandra Gibson (CEO, Association of Performing Arts Presenters), Charles Fishman (Dizzy Gillespie's last manager; President of the Duke Ellington Jazz Festival), renowned jazz portrait artist LeRoy Neiman, and Angela Martinez (Program Director, Association of Performing Arts Presenters).
National Museum of American History Celebrates Sixth Annual Jazz Appreciation Month
Smithsonian Jazz Tradition Boosted by Alpert, Claxton, Gillespie and Neiman donations
At a special ceremony today, the Smithsonian's National Museum of American History kicked off Jazz Appreciation Month with a tribute to three prominent trumpeters: Dizzy Gillespie, Louis Armstrong and Herb Alpert, as well as donations from photographer Bill Claxton and artist LeRoy Neiman.
Now in its sixth year, JAM is an annual event that pays tribute to jazz both as a historic and living American art form. Throughout the month, the Smithsonian will present numerous events, including performances, film and displays in venues around Washington, D.C.
"Jazz is a truly American style of music that has played an important role in our heritage," said Brent D. Glass, director of the National Museum of American History. "Through the Smithsonian's Jazz Appreciation Month activities, we will highlight jazz and its history and expose audiences to this significant piece of American culture."
Four donations were recognized at today's JAM kick off event:
• Business records and personal ephemera belonging to John Birks 'Dizzy' Gillespie, one of the greatest jazz trumpeters of the 20th century. The collection was donated by Charles Fishman, Gillespie's manager from 1985 to 1993, who won a Grammy for producing "Dizzy Gillespie and United Nations Orchestra" and founded the Duke Ellington Jazz Festival in Washington, D.C.
• Twenty-two photographs by acclaimed fashion and jazz photographer Bill Claxton of jazz greats, including Ray Charles, Miles Davis and Chet Baker.
• Support for JAM from the Herb Alpert Foundation as the lead sponsor of Jazz Appreciation Month, with a donation of $300,000 to be used during the next three years.
• Use of celebrated American artist LeRoy Neiman's conté-crayon drawing of Louis Armstrong, which is featured on the official 2007 JAM poster. This is the second year Neiman has donated image for this purpose. The museum and its JAM partners will distribute 250,000 posters around the country to promote local JAM activities.
This year, Carlos Santana and Herb Alpert have added their voices to those of other prominent musicians, including Geri Allen and Wynton Marsalis, in recording radio public service announcements produced by BMI. The PSAs will be distributed nationwide.
In a first this year, the museum will partner with leading online social network Care2 www.care2.com to co-host a discussion board that simultaneously resides in both the smithsonianjazz.org and Care2 communities, enabling music fans on both web sites to join together in one large conversation about jazz.
The Smithsonian Women's Committee is supporting the 2007 JAM public programs throughout the institution with a special grant, and WAMU Radio, 88.5 FM, is the media partner in the nation's capital, providing public service announcements.
Herb Alpert
Los Angeles born Herb Alpert is a notable musician known for co-founding – with Jerry Moss – A&M Records, for years the world's largest, most successful independent label and home to artists including Stan Getz, Antonio Carlos Jobim, Carole King and Sting. Herb Alpert & The Tijuana Brass' 1962 debut "The Lonely Bull" was also A&M's inaugural release. The band's infusion of Latin and jazz sounds into pop music resulted in hits including the Grammy winners "A Taste of Honey" and "What Now My Love." As a solo artist, Alpert is known for "Rise" which won nine Grammys.
Bill Claxton
Claxton, who hails from Pasadena, Ca., first gained fame in the 1950s, photographing artists for the Pacific Jazz record label and went on to have his work featured on album and magazine covers internationally. Throughout his career, Claxton has produced insightful portraits of many jazz legends, often capturing musicians in spontaneous, intimate moments, reflecting his vision of photography as "jazz for the eye."
Dizzy Gillespie
Born in South Carolina in 1917 as the youngest of 10 children, Gillespie taught himself to play the trumpet at age 12. In the 1940s, Gillespie helped develop an innovative style known as bebop, featuring intricate improvisations, complex harmonies and rapid rhythms. Gillespie played with such jazz greats as Ella Fitzgerald, Charlie Parker, Duke Ellington and John Coltrane and mentored young musicians, including Miles Davis. Known for his beret, horn-rimmed glasses, bent horn and puffed cheeks, Gillespie has had an enormous impact on subsequent generations of trumpeters.
LeRoy Neiman
LeRoy Neiman, born in St. Paul, MN., operates his studio out of New York. Growing up on the street during the Depression, his first commission was for the local grocer, drawing calcimine pictures of food items on the store windows. Neiman became interested in jazz during the 1970s. He created art for numerous program covers and posters for the Newport Jazz Festival, the Kool Jazz Festival and Jazzmobile, and painted jazz greats Duke Ellington, Louis Armstrong, Billie Holiday, Charlie Parker and Miles Davis.
The National Museum of American History launched JAM in 2001 and it has since grown to include celebrations in all 50 states and 20 other countries. This year the Smithsonian will present a record 29 events, including five performances by the Smithsonian Jazz Masterworks Orchestra, the museum's resident big band.
In commemorating JAM 2007, the museum collaborated with a diverse group of 28 organizations, institutions, associations and federal agencies that have provided financial and in-kind support and organized programs and outreach of their own. The Smithsonian operates the world's most comprehensive set of jazz programs. The museum is home to incomparable jazz collections that include 100,000 pages of Ellington's unpublished music and such objects as Fitzgerald's famous red dress, Gillespie's angled trumpet and Benny Goodman's clarinet. A complete schedule of JAM events is available at http://americanhistory.si.edu.
The National Museum of American History collects, preserves and displays American heritage in the areas of social, political, cultural, scientific and military history. Documenting the American experience from Colonial times to the present, the museum looks at growth and change in the United States. The museum is closed for major renovations and will re-open in summer 2008. The public may visit the museum's Web site at http://americanhistory.si.edu or call (202) 633-1000 or (202) 633-5285 (TTY) for general Smithsonian information.