BMI Foundation Names Three Winners of 21st Annual Pete Carpenter Fellowship
The BMI Foundation has named Gerrit Wunder, Elizabeth Luttinger and Peter Bateman the winners of the 21st annual Pete Carpenter Fellowship for aspiring film composers under the age of 35. The Fellowship was established by the BMI Foundation and Mr. Carpenter's family, colleagues, and friends to honor the late co-composer of television themes and scores including The A-Team, Magnum P.I. , The Rockford Files, Hardcastle and McCormick, Hunter and Riptide.
Wunder, Luttinger and Bateman will each have the opportunity to work for 4-5 weeks with BMI composer Mike Post, Pete Carpenter's partner and friend and writer of such TV themes as NYPD Blue, Hill Street Blues, L.A. Law and Law and Order. They will also receive a $3,000 stipend for travel and expenses and will have an opportunity to meet with other distinguished theatrical, film, and television composers.
Born in Austria, Gerrit Wunder studied Classical Composition & Orchestration, Scoring for Motion Pictures, Jazz Arrangement and Piano at the University of Music and performing Arts Vienna, and has since composed music for television documentaries shown on Austrian cable networks (ORF & 3SAT), commercials (Hewlett Packard, Amnesty International, among others) and German/Austrian short and feature films. He has arranged and orchestrated music for Dancing Stars and Starmania, the Austrian versions of Dancing with the Stars and American Idol. Wunder is also a commission composer of U.S. music production libraries and has recorded and conducted his own composition with the Hollywood Studio Symphony at FOX's Newman Scoring Stage. In March 2009, his score for the psychological thriller Faceted was awarded with the Golden Bobby for Best Film Score at the 14th Viennese Film Festival.
Originally from the suburbs of London, England, Peter Bateman studied composition and conducting as a part of his bachelor's degree in music at the University of Birmingham. After graduating Peter continued to work in the music industry as an arranger and musical director for youth music ensembles, music theatre, and provincial orchestras. Peter's orchestral score for the 1910 silent film Falsely Accused garnered him a finalist's spot in the BFI/Channel 4 Composer's contest in 2004. In 2007, he moved to Los Angeles and enrolled in the UCLA Extension's Film Scoring program, where he scored numerous short films for USC film students and other college film programs. Peter currently works as an assistant to the composers Christopher Young (Spiderman III, Ghostrider, The Shipping News) and Garry Schyman (Bioshock, Destroy All Humans, Magnum PI, The A-Team).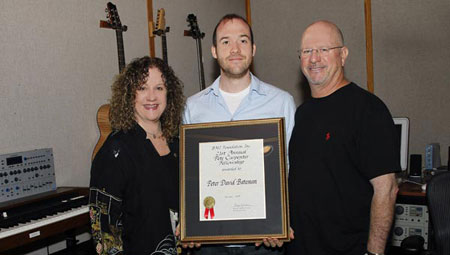 Pictured at Mike Post's Burbank, CA studio are the BMI Foundation's Linda Livingston, Peter Bateman, and Mike Post.
Elizabeth Luttinger received a BA from Bard College, where she double-majored in music composition and dance choreography.  She spent a year working as a dance instructor in Syracuse, New York and Cincinnati, Ohio, before moving to Europe, where she lived between Madrid and Düsseldorf, working as a freelance composer, English instructor, and member of Spain's national chorus Vía Magna. Elizabeth has since completed a masters in music composition at Syracuse University and has had compositions performed by the Cassatt and Colorado quartets, upstate New York's Society for New Music, the Da Capo Chamber Players, and the American Symphony Orchestra.  Currently an adjunct music theory professor at Syracuse University, Elizabeth works regularly as a performer on piano, accordion, and double bass, and as music director and choreographer at LeMoyne College with the Gifford Family Theater.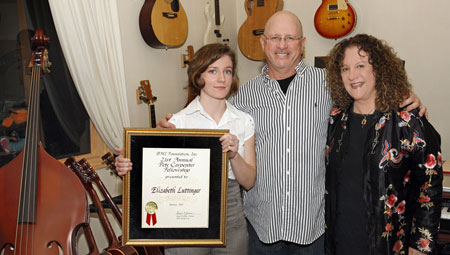 Pictured are Elizabeth Luttinger, Mike Post and BMI's Linda Livingston.
The BMI Foundation, Inc. is a not-for-profit corporation founded in 1985 to support the creation, performance, and study of music through awards, scholarships, commissions and grants. Tax-deductible donations to the Foundation come primarily from songwriters, composers and publishers, BMI employees and members of the public with a special interest in music. Because both the Foundation staff and the distinguished members of the Advisory Panel serve without compensation, over 95% of all donations and income are used for charitable grants.