BMI Executives Travel to Cuba to Talk Music and Copyright With ICM and ACDAM
BMI executives including President and CEO, Mike O'Neill; Senior Vice President of Writer/Publisher Relations, Phil Graham; Vice President of Latin Music, Delia Orjuela; and Assistant Vice President of International, Consuelo Sayago, went to Havana on May 25 to meet with executives from the Instituto Cubano de La Musica (ICM) and the nation's copyright society, the Agencia Cubana de Derecho de Autor Musical (ACDAM). ICM, which is governed by Cuba's Ministry of Culture, oversees the development, protection, enrichment, and promotion of musical heritage in the country, including that of songwriters through ACDAM. During the meeting, the teams discussed Cuba's rich musical culture and contributions, along with potential ways BMI, ICM and ACDAM can work together in the global marketplace.
BMI was also welcomed at ACDAM's offices, where a student guitar ensemble conducted by Professor Jesus Nicomedes Ortega Irusta gave a performance of traditional Cuban music, followed by a discussion between BMI and ACDAM about business practices, copyright and the evolving industry.
During BMI's stay in Cuba, the team had the opportunity to experience a variety of local music. At Abdala studios, O'Neill, Graham and Orjuela met with Samuel Formell, son of Juan Formell, the founder of legendary group, Los Van Van. They also attended an Interactivo showcase, led by prominent Cuban jazz pianist Roberto Carcasses, during which musicians from different genres created fusions of music. To conclude the visit, BMI executives enjoyed Cuban jazz by Roberto Fonseca and others, at ACDAM's invitation.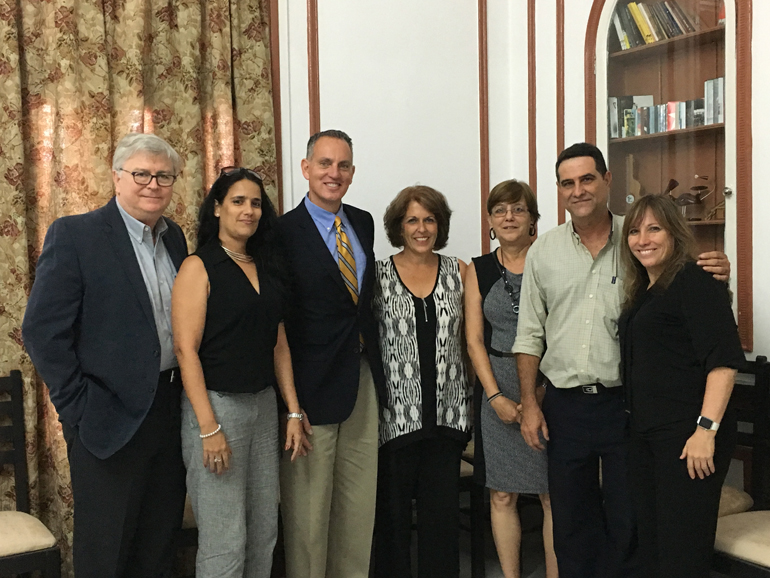 BMI's Phil Graham, ACDAM's Kenia Padrón Machado, BMI's Mike O'Neill, ICM's Marta Bonet de la Cruz, ICM's Eileen Tregent Menendez, ACDAM's René Hernández Quintero, and BMI's Consuelo Sayago meet in Cuba on May 25.