BMI Congratulates Inaugural Musicians Hall of Fame Inductees
BMI proudly sponsored the after party for the inaugural Musicians Hall of Fame induction ceremony held Monday, November 26 in Nashville. After honoring the members of the A Team, the Blue Moon Boys, The Tennessee Two, the Funk Brothers, The Memphis Boys and the Wrecking Crew at the Schermerhorn Symphony Center, the revelers moved to the Musicians Hall of Fame to continue the celebration.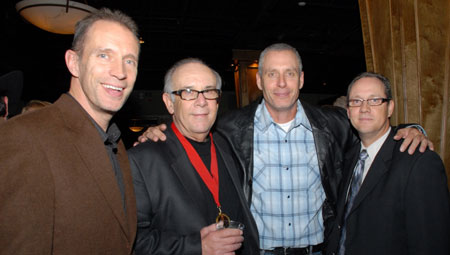 Nashville A Teamer Jerry Kennedy was one of the night's inductees. Music runs wild through the Kennedy bloodline: All of Jerry's three sons are hit songwriters, while Shelby Kennedy is also a Writer/Publisher Relations representative in the Nashville office. Pictured are (l to r): Gordon Kennedy, Jerry Kennedy, Bryan Kennedy and BMI's Shelby Kennedy.
The vast majority of 2007's inductees are BMI affiliates, veterans and virtual architects of the American popular music canon. Nashville's A Team lent their gifts to studio recordings by Patsy Cline, Jim Reeves, Elvis Presley, Bob Dylan, Brenda Lee, Marty Robbins and countless others. The Blue Moon Boys and the Tennessee Two helped shape the sounds of Elvis Presley and Johnny Cash, respectively. The Wrecking Crew's musicianship finessed legendary singles for The Ronettes, The Beach Boys, Simon & Garfunkel, The Carpenters and more. Detroit's Funk Brothers were a tour de force in Motown, playing on Marvin Gaye's "I Heard It through the Grapevine," singles by Smokey Robison & The Miracles and a smorgasbord of others. The Memphis Boys picked, strummed and drummed through major hits for icons including Elvis Presley and Willie Nelson.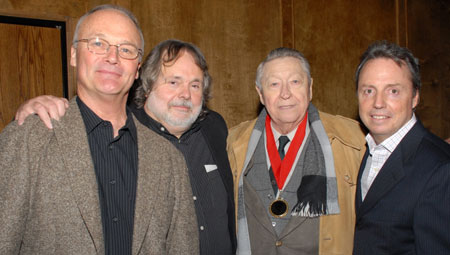 Pictured at the event are (l to r): host Creed Batton, the Musicians Hall of Fame's Joe Chambers, guitar legend Scotty Moore and BMI's Jody Williams.
Joe Chambers, gatekeeper of the Musicians Hall of Fame, took great care in organizing the event, which brought due recognition to behind the scenes virtuosos. Peter Frampton, Vince Gill, George Jones, Brenda Lee, Mandy Barnett, The Jordanaires, Dobie Gray, The Supremes' Mary Wilson, Amy Grant, Keith Anderson, Ray Scott, Garth Brooks, John Carter Cash and Rodney Crowell presented, performed and reiterated glowing praise. Actor/musician Creed Bratton, beloved character of the same name on The Office, proved an able host; before gaining attention for his television and film work, Batton played guitar in popular 60s group The Grass Roots.
Photos by Beth Gwinn