BMI Composer Steve Jablonsky is the Man Behind the Music in 'Ender's Game'
Interstellar battle scenes, robot warfare and an impending Armageddon are de rigueur scenarios in science fiction films. So when Steve Jablonsky was offered the opportunity to score the film adaptation of the cult-worthy book, Ender's Game, he didn't expect to be highlighting the issues of teenage bullying and isolation.
Jablonsky admits he wasn't familiar with the 1985 novel, but once he was brought onboard to score the movie, he quickly caught on to the compelling story line that made Ender's Game an award-winning bestseller worthy of a screen adaptation. The film, out now, centers on Ender Wiggin, a runty but gifted 12-year-old who is recruited to join battle school so he can eventually lead an army to destroy the "Buggers," a foreign species threatening to destroy life on earth. "It's more of a drama wrapped up in a sci-fi film," says Jablonsky. "Our focus from the beginning was not the big action scenes or about being bombastic with the music and trying to over-blow the spaceship sound effects," he explains. "It was more about finding simple thematic ideas to play Ender's emotions and his development throughout the film."
Jablonsky developed orchestral and choral compositions that were central to highlighting the scenes in the battle room – a beautiful, glass-paned geodesic dome where Ender and his teenage troops trained for combat in zero gravity with an unmatchable view of earth. "The choir gives an ethereal, floaty feeling to the zero-gravity scenes in the film," says Jablonsky. The dome was also the setting for the movie's more playful scenes. "The only spot where we allowed ourselves to have a little fun was the first time the kids float into the battle room and they're kind of just messing around and shooting each other. It's a little bit of a lighter cue," he adds. "Everything else is pretty dark and moody, because the film is dark and moody."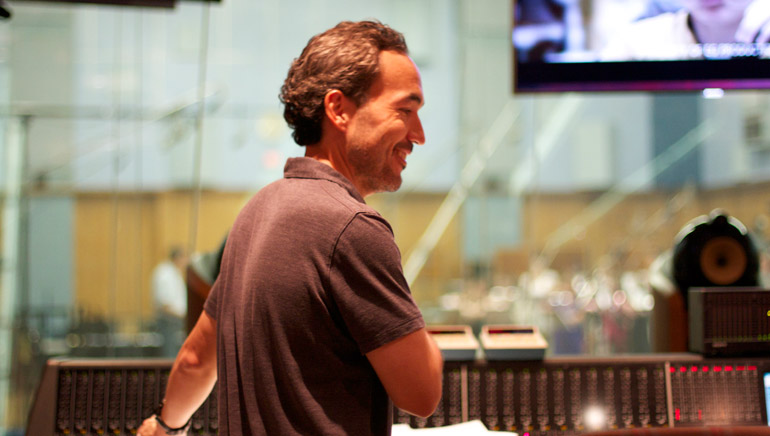 Jablonsky had to highlight through music that Ender is a sensitive boy marked by his day-to-day experiences with bullying and who is ultimately not comfortable with the consequences of his actions. "Ender is a very isolated person, so I wrote a simple melody for solo cello that the filmmakers really responded to because it felt cold and isolated, which is Ender's world," says Jablonsky.
The talented BMI composer says he was especially careful about remaining faithful to a story that has captured the imaginations of millions of readers. "At its heart, Ender's Game is really a story about this boy dealing with extraordinary circumstances," he says. "We really want the fans to enjoy the film and feel like they got the movie that they wanted."
In what has been a busy year for Jablonsky, he also scored the action thriller Lone Survivor, which stars Mark Wahlberg and Taylor Kitsch and opens December 27.