BMI Brings Songwriters and Businesses Together
Sheryl Crow Rocks Marriott Conference
BMI and Marriott International joined forces to present an intimate evening with pop legend Sheryl Crow at the hotel company's 2012 annual owners meeting held on October 30th at the Marriott Beach Resort on Marco Island, FL. Crow performed many of her biggest hits including "All I Wanna Do", "If it Makes You Happy" and "Soak up the Sun" in front of an enthusiastic group of Marriott hotel owners and executives. The annual conference, know as MINA, is an event that Marriott hosts each year for its full service owners and franchisees.
Sarah Darling Highlights National Restaurant Association Event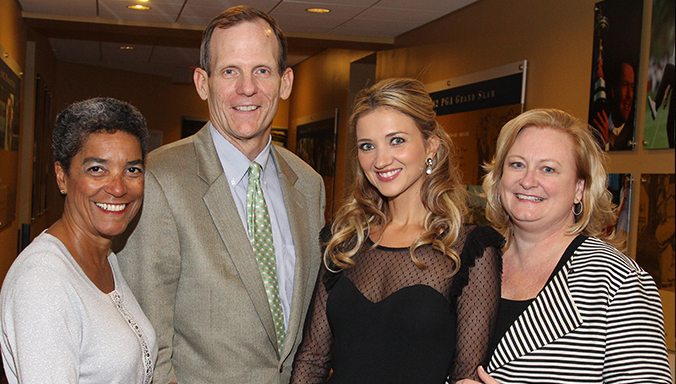 Pictured after the performance are NRA Board Chair and President/CEO of PhaseNext Hospitality Roz Mallet, BMI's Dan Spears, Sarah Darling, and NRA President/CEO Dawn Sweeney.
Newly signed BMI songwriter Sarah Darling was the featured entertainment at the Richard E. Marriott SAFE Golf Invitational Awards Banquet sponsored by the National Restaurant Association. The Black River Entertainment recording artist belted out tunes from her upcoming album, including the debut single, "Home to Me", which is currently climbing the country charts.
Gordon Mote Graced the Administrators of Gospel Music Breakfast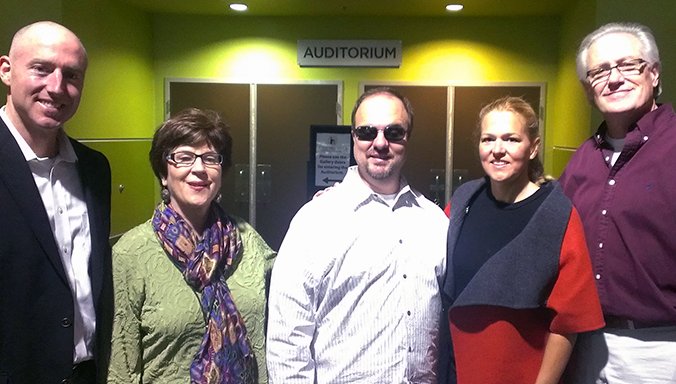 Pictured after the performance are BMI's Jack Flynn, Christian Copyright Solutions Founder & AGM Chairwoman Susan Fontaine Godwin, Mote, BMI's Leslie Roberts, and Final Four Music Owner Michael Puryear.
BMI presented a performance by gospel songwriter and performer Gordon Mote at the Administrators of Gospel Music breakfast held on October 26 at Rolling Hills Community Church in Franklin, Tennessee. This year's event theme was "The Business of Creativity: Managing the Changing Music Landscape with Innovation."
BMI Songwriter Barry Dean Entertains Kansas Association of Broadcasters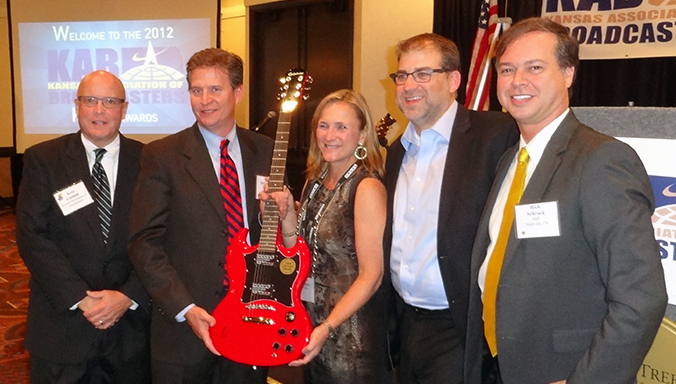 Pictured after the performance are KAB's President, Kent Cornish, Fox Kansas' Jeff McCausland, Koch Companies' Laurie Sahatijan, Dean, and BMI's Rick Schrock.
Barry Dean, enjoying some recent success at the top of the country charts, performed for the Kansas Association of Broadcasters at their recent convention. Dean stacked his performance with some of his best compositions including the heartfelt "God's Will" (Martina McBride) and the crowd pleaser, "Pontoon" (Little Big Town). The Kansas native was welcomed home by the Wichita crowd.
BMI Songwriters Dustin Lynch and Dylan Altman Entertain Darden Restaurants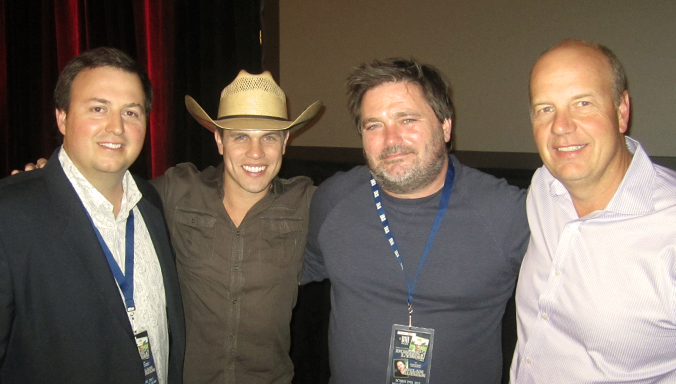 Pictured after the performance are BMI's Mason Hunter, Lynch, Altman, and Darden Specialty Group President Gene Lee
BMI songwriter and Broken Bow Recording Artist Dustin Lynch and BMI Award-Winning Songwriter Dylan Altman recently (10/29) performed at the Darden Specialty Restaurant Groups Leadership Conference held at the Ritz Carlton, Amelia Island FL. Altman opened the performance with a set full of hits including #1 hits "Watch The Wind Blow By" by Tim McGraw, "Barefoot Blue Jean Night" by Jake Owen, and most recently "Take A Little Ride" by Jason Aldean.
Lynch capped off the evening with a two hour set that included his recent chart-topper "Cowboys and Angels" as well as his current single "She Cranks My Tractor."