BMI Announces Excellent ACL Festival Lineup
Click Artist Names to See and Hear More
At this year's Austin City Limits Music Festival–October 12-14 in Austin, Texas–the work that leading performing right organization BMI does on behalf of songwriters will be represented with 15 musically diverse performances by an eclectic collection of artists. From 11:00 to 7:30 each day of the festival, in a shady corner of Zilker Park, ACL attendees will be able to beat the heat and experience a lineup of bands from across the United States and England, spanning rock and roll, honky tonk, country, indie rock, Americana and acoustic singer-songwriters.
The BMI stage will feature Nikki Lane, Colorfeels, and Space Capone all from Nashville; Lera Lynn, Patterson Hood, and Megan McCormick from Georgia; Noah Gundersen from Seattle; Native Run and Kishi Bashi from Virginia; Royal Teeth from New Orleans; Justin Jones from Washington; Willis Earl Beal and Wild Belle from Chicago; Gardens & Villa from Santa Barbara and The Dunwells from Leeds.
Free to join, with an open-door policy for all songwriters since its founding in 1939, BMI is dedicated to supporting the rights, livelihoods and careers of all songwriters. The BMI stage at ACL Festival is an example of not only the types of inspired, gifted artists that BMI champions, but also the kind of opportunities BMI strives to offer them.
Listen on Spotify:
FRIDAY, OCTOBER 12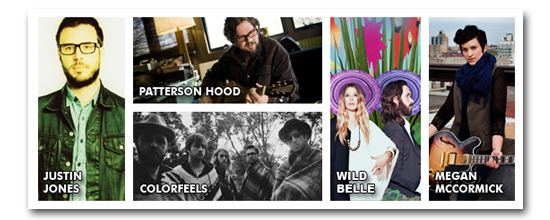 MEGAN MCCORMICK (Atlanta, GA)
http://www.facebook.com/meganmccormicksmusic
11:15 AM-12:00 PM

COLORFEELS (Nashville, TN)
www.colorfeels.com
12:30 PM-1:30 PM

JUSTIN JONES (Washington, D.C.)
justin-jones.com
2:30 PM-3:30 PM

WILD BELLE (Chicago, IL)
www.wildbelle.com
4:30 PM-5:30 PM

PATTERSON HOOD (Athens, GA)
www.pattersonhood.com
6:30 PM-7:30PM

SATURDAY, OCTOBER 13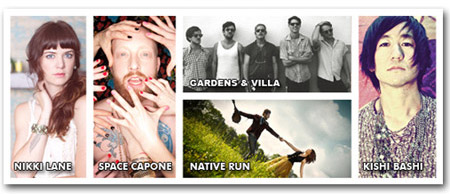 NIKKI LANE (Nashville, TN)
missnikkilane.com
11:15 AM-12:00 PM

NATIVE RUN (Vienna, VA)
www.nativerunmusic.com
12:30 PM-1:15 PM

GARDENS & VILLA (Santa Barbara, CA)
www.gardensandvilla.com
2:00 PM-3:00 PM

SPACE CAPONE (Nashville, TN)
spacecapone.com
4:00 PM-5:00 PM

KISHI BASHI (Norfolk, VA)
www.kishibashi.com
6:00 PM-7:00PM

SUNDAY, OCTOBER 14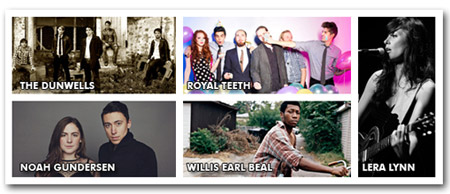 NOAH GUNDERSEN (Seattle, WA)
noahgundersen.bandcamp.com
11:05 AM-11:50 AM

ROYAL TEETH (New Orleans, LA)
www.royalteethmusic.com
12:15 PM-1:15 PM

LERA LYNN (Athens, GA)
leralynn.com
2:15 PM-3:15 PM

THE DUNWELLS (Leeds, England)
thedunwells.com
4:15 PM-5:15 PM

WILLIS EARL BEAL (Chicago, IL)
www.willisearlbeal.com
6:15 PM-7:15 PM

BMI's stage at the Austin City Limits Music Festival exemplifies the organization's continued dedication to fostering auspicious new talent. BMI's layered approach to songwriter development comprises educational, creative and promotional opportunities, including the BMI Lehman Engel Musical Theatre, Jason Blume Songwriters' and Jazz Composers Workshops; 8 off 8th, Pick of the Month and Acoustic Lounge showcase series; and stages at premier festivals including Lollapalooza, South By Southwest, the Key West Songwriters Festival and the Austin City Limits Music Festival; and the annual Road to Bonnaroo competition.
The Austin City Limits Festival is slated for October 12-14, 2012 in Austin's Zilker Park. The complete festival lineup will be released May 22. For the schedule, tickets, announcements, and more information, please visit www.aclfestival.com.