BMI and Club Fandango Rock The Borderline
BMI's London office hosted The Twilight Sad and Joe Lean and The Jing Jang Jong at the May installment of its "At The Borderline" showcase series. Presented by BMI and promoters Club Fandango, the showcase is aimed at presenting the hottest talent to the music industry.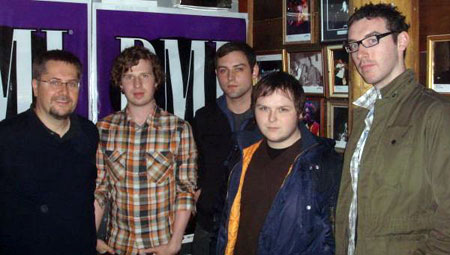 Pictured (l-r) are: BMI London's Nick Robinson with The Twilight Sad members Andy MacFarlane, James Graham, Mark Devine and Craig Orzel.
Based outside of Glasgow, brooding Scot-rockers The Twilight Sad formed in late 2003 and their debut album, Fourteen Summers & Fifteen Winters (FatCat Records), hit U.S. stores last month to great critical acclaim.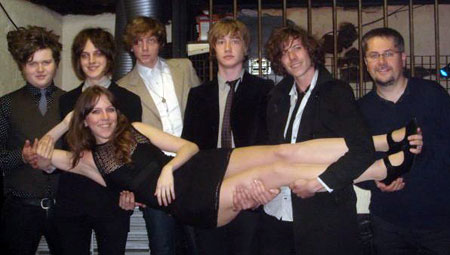 Shown at the gig are (l r-): Joe Lean & The Jing Jang Jong members Panda, Tom D, Bummer, Dom, Joe Lean and BMI London's Nick Robinson. In the band's arms is their biggest fan, Alejander!
Hailing from London are unsigned artists Joe Lean & The Jing Jang Jong, who are the latest hot buzz from the Young And Lost Records stable. With influences such as Alex Chilton, Dion and the Belmonts, The Dovers, and Smokey Robinson, this group delivers classic indie pop and was named a 'Band to Watch' by The Fly.