BMI Partners With Music Nation to Create a World-Class Performing Rights Infrastructure in the UAE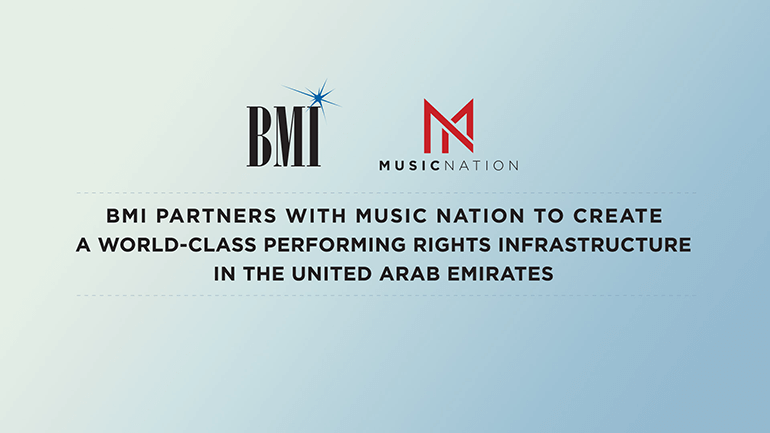 BMI announced that it has partnered with Music Nation Copyrights Management ("Music Nation"), a UAE-based music rights management organization, to establish a world-class music licensing and royalty distribution infrastructure based in the UAE. The new endeavor will protect the rights of music creators and compensate them for the public performances of their work, while also helping to develop and nurture the next generation of songwriters and composers within the region.
The companies agreed today to begin building and implementing new infrastructure and initiating the process of licensing in the UAE. Offices will be located in Dubai and Abu Dhabi.
The partnership between Music Nation and BMI is part of a larger initiative to create a thriving music ecosystem within the Emirates and elevate the region's music industry. That initiative provides an important foundation in demonstrating that writing and composing music can be a viable career, and that music creators and publishers, both local and international, will be compensated for the use of their work.
Rasha Khalifa Al Mubarak, Chairwoman of Music Nation, said, "Through recent legislation, the UAE's leadership has paved the way for creatives to build rewarding careers in music. Building a state-of-the-art music licensing infrastructure is critical to delivering on the nation's vision and our initiative to ignite the UAE's music economy. We are excited to partner with BMI for their world-class management team and many decades of experience in this area, which will ensure the sustainability of music creators' work, attract new talent to the UAE, and ultimately launch and elevate careers for a local and regional community filled with so much potential."
Mike O'Neill, President and Chief Executive Officer of BMI, said, "The foundation of a thriving music industry is doing right by creators, providing them with the education and support to succeed and ensuring that they are paid for their work. This is at the heart of BMI's mission and aligns with the vision of Music Nation and the UAE. We were honored when Music Nation first approached us and are thrilled that we are now partnering with them to help support their mission of creating the best possible infrastructure for music licensing and talent development within the region."

Music Nation is a licensed UAE-based rights management organization established to support the careers of UAE and regional music creatives and promote the UAE's music economy. The company is technology-driven, employing the most advanced tools to support the licensing, identification and royalty distribution of multi-language compositions and recordings, reflecting the rich diversity of the UAE's population. Music Nation is Emirati-led and features a leadership team with extensive experience in global publishing, recorded music and UAE business management.
BMI is a global leader in advocating for the value of music with over 80 years of experience serving songwriters, composers, music publishers and businesses. The company distributes royalties to its affiliates when their songs are performed in public and has built strong partnerships with multiple international collection societies to help ensure that music creators around the world are paid for their work. Founded with an open-door policy to represent all genres of music, BMI is also deeply committed to providing career development, mentorship and performance opportunities to its affiliated songwriters and composers.
Songwriters and composers interested in learning more about this initiative can email music@wearemusicnation.com.