The BMI Stage Celebrates Its 20th Anniversary at 2023 Austin City Limits Festival
22 Performed on the BMI Stage Including Corey Kent, Delacey, Grace Sorensen, Husbands, New West and The Moss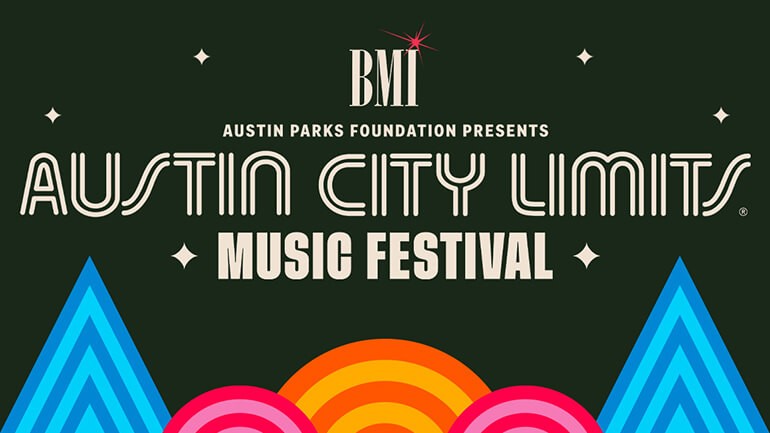 The BMI Stage returned to Zilker Park for the 2023 Austin City Limits Music Festival held Oct. 6-8 and Oct. 13-16, as BMI curated a musically diverse lineup at ACL Fest for the past two decades. Known to usher in the next wave of emerging talent across all genres, this year's lineup showcased 22 promising acts throughout two consecutive weekends including Corey Kent, Delacey, Grace Sorensen, Husbands, New West, The Moss and more.
"This is an extra special year for BMI at ACL Fest as we celebrate a twenty-year partnership with C3 Presents that's been reflected in our stellar lineups since 2003," says Mason Hunter AVP, Creative Nashville. "BMI takes pride in offering prime showcasing opportunities to our rising talent and we couldn't do it without the help of one of our biggest collaborators."
In its 20th year, the longstanding BMI Stage was a focal point during ACL Fest after launching some of music's biggest stars such as Alessia Cara ('15), Gary Clark, Jr. ('11), City and Colour ('08) Luke Combs ('16), Shakey Graves ('13), Miranda Lambert ('03), Maren Morris ('16) and Jon Pardi ('11, '14). Promising the opportunity to witness tomorrow's headliners today, BMI brought another year of genre-blurring styles and sounds to Texas.
Listen to BMI's 2023 ACL Playlist on Spotify
Friday, October 6
Saturday, October 7
Sunday, October 8
Friday, October 13
Saturday, October 14
Sunday, October 15
Below is the full schedule for the BMI-sponsored stage:
Weekend One Schedule
Friday, Oct. 6
1:45pm–2:30pm – Delacey
3:15pm–4:00pm – Brother Thunder
5:00pm–6:00pm – Bass Drum Of Death
Saturday, Oct. 7
12:00pm–12:45pm – Patrick Martin
1:30pm–2:15pm – Serayah
3:15pm–4:15pm – Husbands
5:15pm–6:15pm – SHAED
Sunday, Oct. 8
11:45am–12:30pm – MAJOR.
1:15pm–2:00pm – Grace Sorensen
3:00pm–4:00pm – Sunrose
5:00pm–6:00pm – Tanner Usrey
Weekend Two Schedule
Friday, Oct. 13
1:40pm–2:25pm – emlyn
3:15pm–4:00pm – Oliver Hazard
5:10pm–6:10pm – The Moss
Saturday, Oct. 14
11:45pm–12:30pm – Pony Bradshaw
1:15pm–2:00pm – Rattlesnake Milk
3:00pm–4:00pm – Snõõper
5:00pm–6:00pm – New West
Sunday, Oct. 15
12:00am–12:45pm – Myron Elkins
1:30pm–2:15pm – corook
3:15pm–4:15pm – Caramelo Haze
5:15pm–6:15pm – Corey Kent