BMI Helps Luke Bryan Celebrate His Triplet of #1s
Last week, Luke Bryan celebrated his 17th, 18th, and 19th #1 hits with a triple No. 1 party at the Hutton Hotel in Nashville. The chart-toppers include "Fast" (co-written with BMI songwriter Rodney Clawson and songwriter Luke Laird), "Move" (penned with BMI songwriter Jay Clementi and songwriter Michael Carter), and "Light It Up" (co-written with Old Dominion member, Brad Tursi).
"It's hard to believe you can have this much fun and compile all of those numbers," Bryan told the party goers. "We're all byproducts of moving here chasing a dream. And you are so scared when you move here that you are going to get somewhere and not fit in and not know if you are good or bad, and the next thing you know, you are surrounded by people that are just like you and are chasing their dreams and they are hungry. Then you call your parents back home and let them know you are pretty much never coming back home, because you have found your place. Nashville has always been that home for me. When I got here, I was amazed at how you can go from knowing no one in a town, to it forever being your home. There are so many examples of the friendship of the music business and Music Row, and it's so inspiring."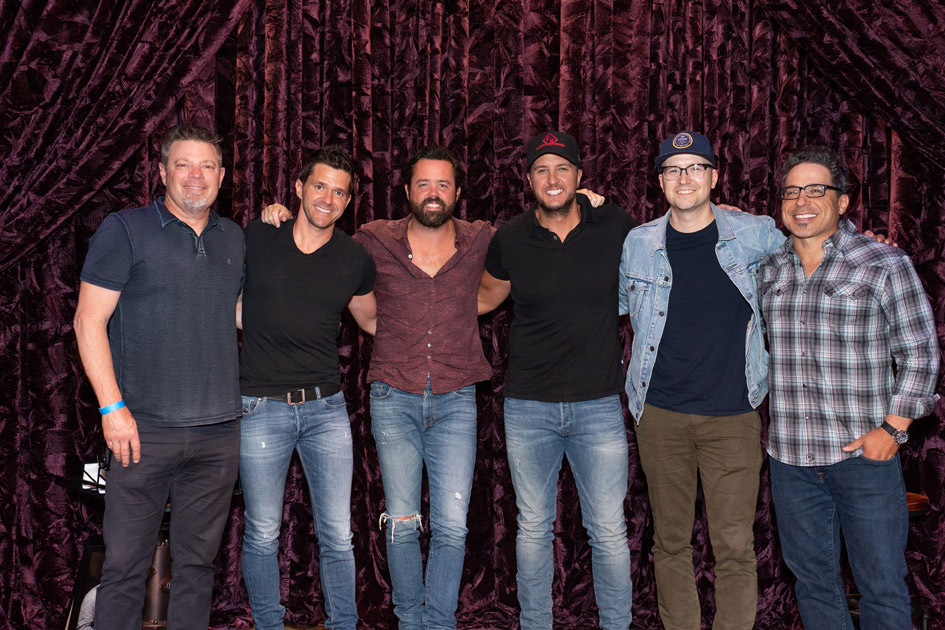 BMI songwriter Rodney Clawson, songwriter Michael Carter, songwriter Brad Tursi, BMI songwriter Luke Bryan, songwriter Luke Laird, and BMI songwriter Jay Clementi.