BMI Composer Penka Kouneva's Music Explores the Final Frontier at the Hollywood Bowl
As a composer for film, television, video games and the concert stage, Penka Kouneva's music has been called "fantastic" (Billboard) and "breath-taking" (NPR). Her many credits include the video game Prince of Persia, The Mummy VR game, the TV series Pandora, which she co-scored with BMI composer Joe Kraemer, festival film favorites Ága and Dead Roses, as well as Sci-Fi and fantasy films Encounter and Devil's Whisper. In 2016, she scored the $30 million NASA attraction, Heroes and Legends, at the Kennedy Space Center, while her corresponding orchestral album, The Woman Astronaut, was released to rapturous critical reception.
Now, her out-of-this world music will pay tribute to women in space at the Hollywood Bowl's "America in Space" concert on August 15, which will celebrate the achievements of American space travel, as well as the groundbreaking Apollo 11 moon walk.
How did a composer who emigrated to the U.S. from Bulgaria become interested in U.S. space travel? Read on to find out!
You composed The Woman Astronaut concept album, from which the "Women Astronauts" concert segment that will be featured at the Hollywood Bowl is adapted. You also scored Heroes and Legends at the Kennedy Space Center. Tell us a bit about these projects. How did you get interested in the topic of space and specifically female astronauts?
I grew up in Bulgaria, Eastern Europe. Since early childhood, space, astronauts and aviation symbolized my yearning for freedom. In 2015, I composed The Woman Astronaut orchestral album to grow as a composer, and to steer my career towards scoring Sci-Fi, fantasy and drama projects. Varese Sarabande released the CD which lead me to score Heroes and Legends, a new multimedia attraction celebrating the American astronauts. But there was another reason I chose the title "Women Astronauts." 11% of all people in space have been women. Compare this with the fact that only 2% of all theatrical films are scored by women composers.
How does your work as a video game composer, as well as a composer for Sci-Fi, play into the concept of space for you?
The Sci-Fi genre was huge in the Eastern Bloc countries; it was a way to sneak past the censorship social critiques narrated as interstellar adventures. My life-long passion for Sci-Fi and fantasy lead me to working with the Transformers composer Steve Jablonsky, who opened the door for me to score video games such as Prince of Persia. Space symbolizes the unknown, the ever-aspiring human spirit, and keeps me humble and down-to-earth … helpful attitudes for a media composer.
What particular instruments and orchestration lend themselves to the topic of space and why?
The palette could be anything, from pure electronics to pure orchestra, with any possibilities of hybrid orchestra and electronic elements. Most of my scores are "hybrid" with themes. Often, a space score needs to be very transparent and subtle.
The Hollywood Bowl performance is in celebration of the 50th anniversary of the Apollo 11 moon landing. What do you want the takeaway for the audience to be when they hear your music?
I hope people are inspired by the character of the astronauts, by their courage to sit atop seven million pounds of explosives for the sake of science and progress for all of humanity. I hope the audiences will be moved by their resilience, discipline, teamwork, and enormous willpower, even in the face of grave danger.
Another big passion of mine is enabling diversity. I saw a unique opportunity for diversity in a concert celebrating the astronauts - both in the films, and also in the concert program. I hope young people will be inspired to follow their dreams. The short commemorative documentary "Women Astronauts" (made by Falcon's Creative Group) is stunning and I can't wait to share it with the world.
What is it about your relationship with BMI that you've found helpful in your career?
I've been a proud member of BMI since 1994, first as a concert composer, and then as a film/TV composer. In my first decade in Los Angeles, I wrote production music for TV shows. I survived the lean years thanks to the BMI royalty checks. Being a BMI composer enabled me to develop my skills: I was a Fellow, and later a mentor at the Sundance Composers Lab, which is supported by BMI, and it helped me foster a fantastic community of friends and peers. Over the years Doreen Ringer Ross has given me precious advice on how to navigate and sustain a media composer career, for which I'm deeply grateful. BMI has also been a tremendous leader for diversity and inclusion, by supporting the Alliance for Women Film Composers, the Sundance Composers Lab and multiple other initiatives.
What's next for you?
Currently I am co-scoring, with BMI composer Joe Kraemer, the TV show Pandora (SciFi-action-drama) on the CW Network. Joe brought me in on this fantastic opportunity, and I'm loving it. I also have two feature films releasing on October 1, Encounter (Sci-Fi drama) and Blue (family drama). Next for me is to foster relationships and find new scoring opportunities in film, TV, and video games.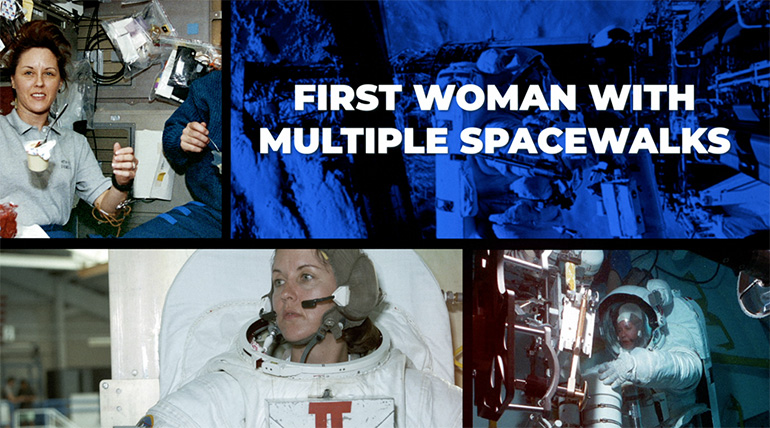 The documentary video "Women Astronauts" will be viewed on screen during the performance of Kouneva's music at the Hollywood Bowl on August 15.