BMI Celebrates Thomas Rhett's No. 1s "Craving You" and "Unforgettable"
ACM Male Vocalist of the Year Thomas Rhett commemorated his eighth and ninth career No. 1 hits yesterday as he gathered with friends and family to celebrate his latest chart-toppers. The party, hosted by BMI and ASCAP, was held at Von Elrod's in Nashville and honored the platinum-selling "Craving You" and GOLD-certified "Unforgettable." Alongside "Craving You" songwriters Dave Barnes and Julian Bunetta, as well as "Unforgettable" songwriters Ashley Gorley, Shane McAnally and Jesse Frasure, Rhett was also surprised with a plaque to commemorate LIFE CHANGES (The Valory Music Co.) earning RIAA Gold Certification for achieving 500,000 units sold less than six months after its release.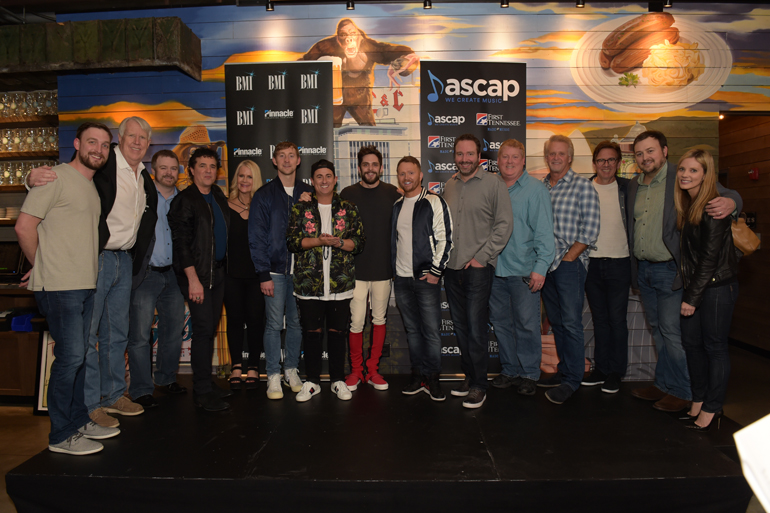 Smack Songs Lee Krabel, BMLG's George Briner, Warner Chappell's Ben Vaughn, BMLG's Scott Borchetta and Allison Jones, songwriter Ashley Gorley, BMI songwriters Jesse Frasure and Thomas Rhett, songwriter Shane McAnally, Sony ATV's Josh VanValkenberg, Mike Sistad, Combustion's Chris Farren, Dann Huff, BMI's Mason Hunter and Natalie Madaj gather for a photo during the celebration of Thomas Rhett's "Craving You" and "Unforgettable" reaching No.1.