BMI and ASCAP "Fix A Drink" To Celebrate Chris Janson's Second No. 1 Hit
BMI songwriter Chris Janson celebrated his second No. 1 hit "Fix A Drink" yesterday in the BMI lobby alongside ASCAP co-writers Ashley Gorley and Chris DuBois. The track marks Gorley and DuBois' 36th and 17th No. 1s respectively. The party, which was hosted by BMI's David Preston and ASCAP's Beth Brinker, included presentations from each writer's publishing team as well as remarks from Warner Music Nashville Chairman and CEO John Esposito.
During his speech, Chris Janson said, "One of my radio regionals Ray Vaughn always says 'team work makes the dream work,' and I truly believe that. I have a fantastic team behind me, from my label to my management, my agency, my publisher and beyond – not to mention my wife Kelly. I am so grateful to have people who believe in my music and fight for my songs. I am proud to share this No. 1 with each and every one of them as well as my fellow songwriters Ashley and Chris."
Janson, whose current single "Drunk Girl" is Top 40 and climbing at country radio, is on tour with Cole Swindell and was recently invited to become a member of the Grand Ole Opry. Upon his induction on March 20, he will be the Opry's youngest living member.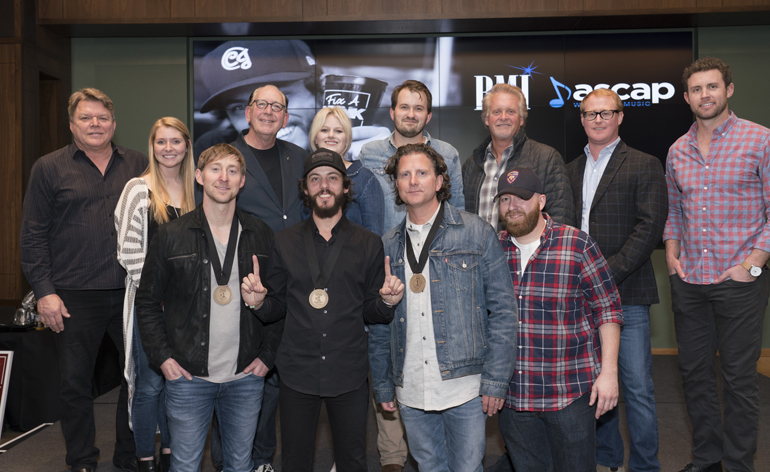 Top (L-R): BMI's David Preston, Sea Gayle's Christina Wiltshire, Warner Bros.' John Esposito, ASCAP's Beth Brinker, Sea Gayle's Jake Gear, Combustion's Chris Farren, Ole's John Ozier and Warner Chappell's Ryan Beuschel. Bottom (L-R): Ashley Gorley, Chris Janson, Chris DuBois and Brent Anderson Photo: Steve Lowry