Attention Songwriters: Enter To Win Prizes In The 8th Annual CMT/NSAI Song Contest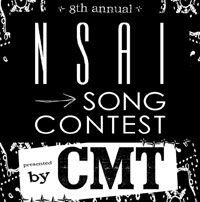 The Nashville Songwriters Association International (NSAI) has announced the launch of the 8th Annual CMT/NSAI Song Contest. Co-sponsored by BMI, the contest provides an avenue for emerging songwriters in all genres of music to open doors to industry contacts and to have their songs pitched to record labels and top publishing executives.
The top six winning songwriters will each win a single-song publishing contract from a major Music Row publisher. Curb Music, Cal IV Entertainment, Encore Entertainment, Hearts Bluff Music, Island Bound and Universal Music will each offer single-song contracts to CMT/NSAI Song Contest winners.
Additional prizes include:
A $500 gift certificate to Sam Ash Music
A three-day trip to Nashville
A demo of your song by professional producers and musicians at Parlor Studio on Music Row
A private tour of the CMT studios
Prizes from Gibson, SHURE, MasterWriter, Elixir Strings, CMT and more
The popular CMT Listeners' Choice Award is also back for a third year. Beginning Jan. 15, 2008, the Top 15 finalists in the 8th Annual CMT/NSAI Song Contest will be posted at nsai.cmt.com. Music fans can go to the site through Feb. 28, 2008, listen to the finalists' demos and vote for their favorite song. The song with the most audience votes will be the CMT Listeners' Choice Award winner. In its first year, the contest received over 106,000 votes.
Prizes are awarded to One (1) Grand Prize Winner, One (1) CMT Listeners' Choice Winner, Four (4) Finalists, Ten (10) Runners-Up and Forty (40) Honorable Mentions. The contest is open to all genres of music. All songs entered receive a judging report. Music industry executives, professional songwriters and NSAI board members judge songs based on lyrics, melody and composition. Performance and production will not be evaluated.
The entry cost is $30 per song for NSAI members and $40 per song for non-NSAI members. Songwriters may enter as many songs as they like. All entries must be postmarked by the final contest deadline: November 3, 2007. All genres of music are accepted and encouraged.
To enter, visit: cmt.com/asm/contests/nsai/2007.
The 8th Annual NSAI Song Contest is presented by CMT and sponsored by the following organizations: Cal IV Entertainment, Curb Music, Encore Entertainment, Hearts Bluff Music, Island Bound Music and Universal Music. Also the Americana Music Association, Americana Rhythm magazine, American Songwriter, ASCAP, the Bluebird Cafe, BMI, DiscMakers, Elixir Strings, Fostex, Gibson Guitar, Graffiti Indoor Advertising, JACK-fm, Lightning 100, Masterwriter Mic-Stands.com, Music City Unsigned, Music Connection Magazine, Nashville Scene, Parlor Productions, Sam Ash Music, SESAC, SHURE Microphones, Songramp.com, Sonicbids, SongU.com, and 95.5 The Wolf.
All proceeds from the 8th Annual NSAI/CMT Song Contest will benefit NSAI's legislative efforts to protect the rights of songwriters. NSAI is the world's largest not-for-profit songwriters' trade organization.