Another Successful CRS for the BMI History Books
Country Radio Seminar hit Nashville last week, Wednesday, Feb. 28 through Friday, March 2. Showdog Nashville's Rushlow Harris kicked off 2007's CRS with BMI Wednesday and Thursday. The duo helped man BMI's booth while they signed autographs and chatted with fans. Up-and-comer Jamie Lee Thurston stopped by the BMI booth as well to catch up with friends both new and old.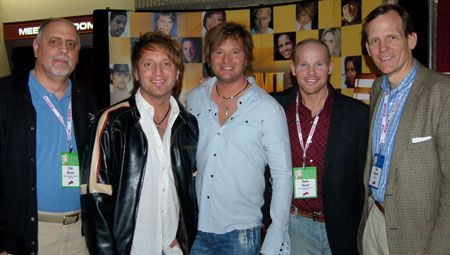 Pictured at the BMI booth are (l to r): Delmarva Broadcasting Station WXCY-FM's Bob Bloom, Rushlow Harris members Tim Rushlow and Doni Harris, Delmarva Broadcasting Station WXCY-FM's Dave Hovel and BMI's Dan Spears.
BMI offered the radio industry a hearty welcome to Nashville on Thursday, March 1 with "WCRS Live!," an intimate, in-the-round showcase hosted by hitmaking machine Jeffrey Steele. Songwriter/artists Sarah Buxton ("Stupid Boy"), Pat Green ("Wave on Wave"), Mac Davis ("Texas in My Rearview Mirror") and Steele himself ("What Hurts the Most") treated the audience to acoustic performances of country radio's contemporary hits and perennial favorites.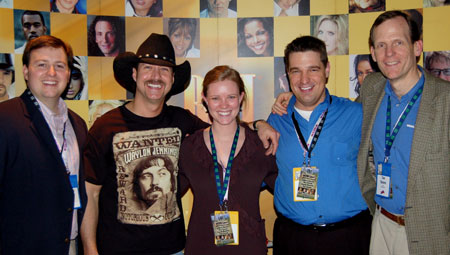 Pictured are (l to r): BMI's Mason Hunter, Jamie Lee Thurston with BMI's Margaret Vann, Glenn Brannen and Dan Spears.
The artists and songwriters featured on CRS's Friday, March 2 "New Faces" showcase bill may have be relatively new, but "auspicious" may better describe this year's round of participants. BMI affiliates snagged every coveted slot of the line-up, and Miranda Lambert, Eric Church, Jack Ingram, Rodney Atkins and Trent Tomlinson gave the packed house at the Nashville Convention Center five strong reasons to feel good about country music's present and future.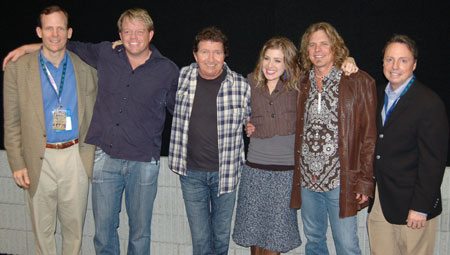 Pictured before the WCRS Live! set are (l to r): BMI's Dan Spears, Pat Green, Mac Davis, Sarah Buxton, Jeffrey Steele and BMI's Jody Williams.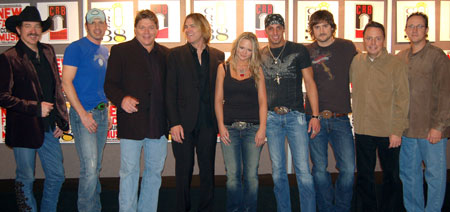 Pictured are (l to r): New Faces host Kix Brooks, Rodney Atkins, BMI's David Preston, Jack Ingram, Miranda Lambert, Trent Tomlinson and Eric Church, with BMI's Jody Williams and Shelby Kennedy.
Photos by Jerry Bailey