A Good Day for Believers: BMI Toasts 'Do You Believe Me Now'
BMI hosted a celebration of "firsts" Thursday, October 9 in its Music Row lobby: "Do You Believe Me Now" marked the first trip to the top of the charts for BMI songwriters, co-producers and long-time friends Joe West and Dave Pahanish, Jimmy Wayne's first top single as an artist, Valory Music Company's breakthrough climb to no. 1, and publishers Wright of Center and My Good Girl Music's inaugural chart-topper as well. Celebrants marked the occasion with a jam-packed party and a unique full-band performance from Jimmy Wayne, featuring Hall & Oates' John Oates. Oates and Wayne delivered a rendition of the duo's "Sara Smile" – a seminal song in Wayne's acquisition of a record deal – and "Do You Believe Me Now."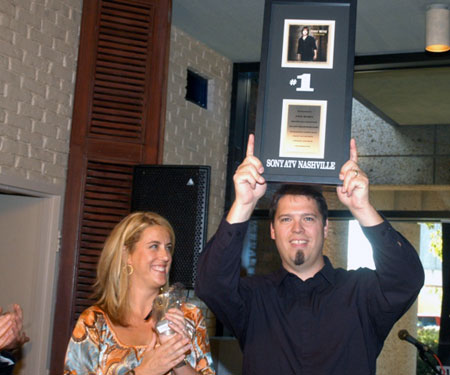 Songwriter Joe West shows off one of many new plaques as publisher Kelly King grins.
Dave Pahanish surprised Wayne with a sentimentally significant guitar, while Joe West reflected on his accomplishment. "This is so humbling," West said. "It's an honor to be able to make the music you really feel good about."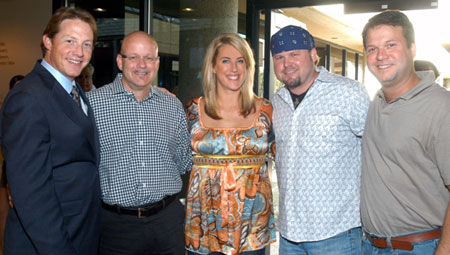 Pictured are (l-r): BMI's Clay Bradley, producer Mark Bright, My Good Girl Music's Kelly King, Wright of Center Music's Cole Wright, and King's husband Jeff Doerflinger.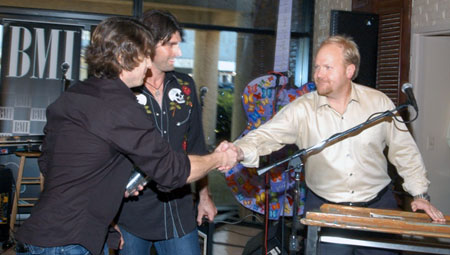 Sony/ATV's Troy Tomlinson (right) congratulates the song's creative team which includes Jimmy Wayne (left) and Dave Pahanish (center).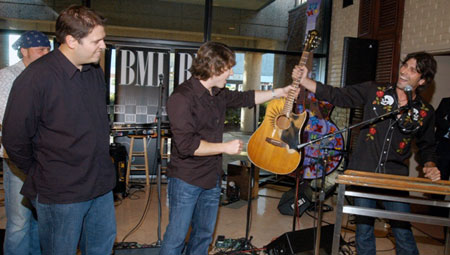 Songwriter Dave Pahanish (right) surprises Jimmy Wayne (center) with a guitar, as co-writer Joe West (left) watches happily.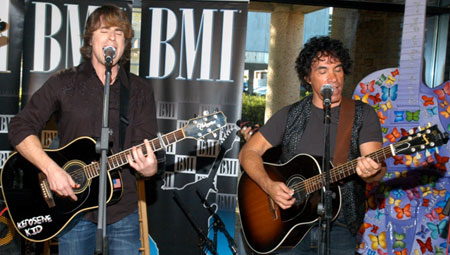 Jimmy Wayne (left) performs with formative influence John Oates (right).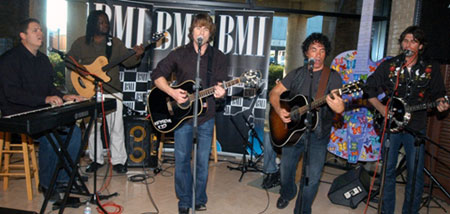 The party's stellar band comprised not only John Oates and Jimmy Wayne, but also songwriters and skilled musicians Joe West and Dave Pahanish.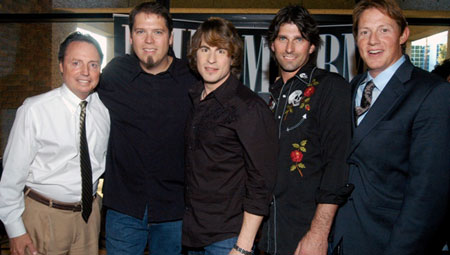 Pictured are (l-r): BMI's Jody Williams, BMI songwriter Joe West, Jimmy Wayne, BMI songwriter Dave Pahanish, and BMI's Clay Bradley.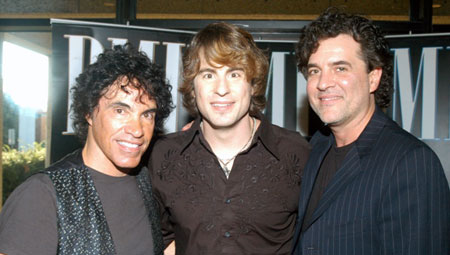 Pictured are (l-r): BMI Icon John Oates, Jimmy Wayne and Valory Music Group's Scott Borchetta.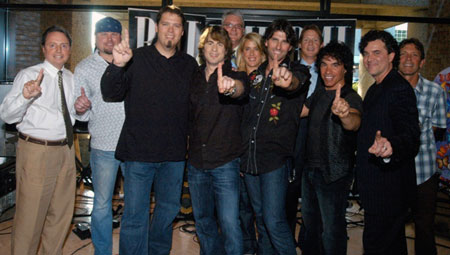 Pictured are (l-r): BMI's Jody Williams, Wright of Center Music's Cole Wright, BMI songwriter Joe West, Jimmy Wayne, BMI's Perry Howard, My Good Girl Music's Kelly King, BMI songwriter Dave Pahanish, BMI's Clay Bradley, BMI Icon John Oates, Valory Music Company's Scott Borchetta, and William Morris Agency's Greg Oswald. (Photos by Alan Mayor)