Sundance 2012 Blog: Miriam Cutler
The Sundance excitement starts from the moment I get the phone call from my director that we will be premiering at Sundance – especially if we have actually finished the film in time. Even though I've had a number of films here over the years, every time is like the first – especially at the premiere screening with an audience full of anticipation. And there's no better movie audience than at Sundance, especially for documentaries. Once the film starts, it's like I'm just another person in a dark and crowded theater.
This year, I scored the HBO/MoxieFirecracker documentary Ethel, a powerful portrait of Ethel and Bobby Kennedy, directed by their daughter, Rory Kennedy.  By weaving the personal family story with our collective American experience in the 1960s, it brings us behind the scenes of so many pivotal events that shaped our lives and world history.  It's a romantic and sweeping story, full of laughs and tears and drama – all the elements we composers love.  With 67 minutes of music, the challenge was to keep it fresh, set the right tone, and propel the audience through a long complex arc including many characters and eras.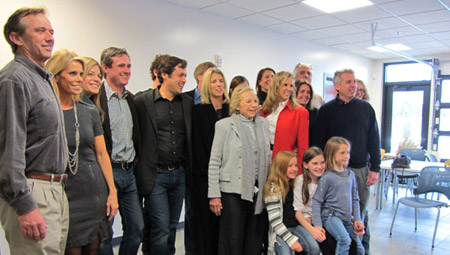 Ethel Kennedy and her family attend the premiere of
Ethel
, the documentary directed by her youngest daughter Rory. Photo by Scott Holtzman.
One of the most interesting challenges for me scoring this film was that the events in this film had a huge effect on my own life and they are very intense and emotional memories. I had to focus on the story and tone set by the director.
Seeing it with an audience is the true test and I always have some stage fright (probably a remnant from my performing years). We composers spend so much time alone in our studios, in our own heads, working for long periods of time – until the moment of truth.  Happily, throughout the screening, there was so much response from the audience, it was clear that they were really connecting, and by the end they jumped up from their seats the minute the credits came on and clapped all the way through to the final frame of picture. What an incredible reward for all my hard work. Now I'm glad I have another film to score when I get home. Hope it gets into Sundance next year!
– Miriam Cutler