March 25, 2016
BMI Presents @ Wondercon: Los Angeles, CA
BMI, along with White Bear PR, presents "Rise of the TV Musical". This panel will featurecomposers, directors and music executives who will explore the growing popularity behind musicals on television at the Los Angeles Convention Center (1201 S. Figueroa Street, Los Angeles, CA), Room 515B 6:30-7:30PM. BMI Director, Film/TV Relations Anne Cecere and Chandler Poling of White Bear PR will moderate this intriguing panel.
This panel is open to WonderCon badgeholders only.
Panelists
Christopher Lennertz - Composer
Gabriel Mann - Composer
Jeffrey Hornaday, Director
Rachel Rusch, VP of Event Series at Fox
Steven Vincent, VP of Music & Soundtracks Disney Channel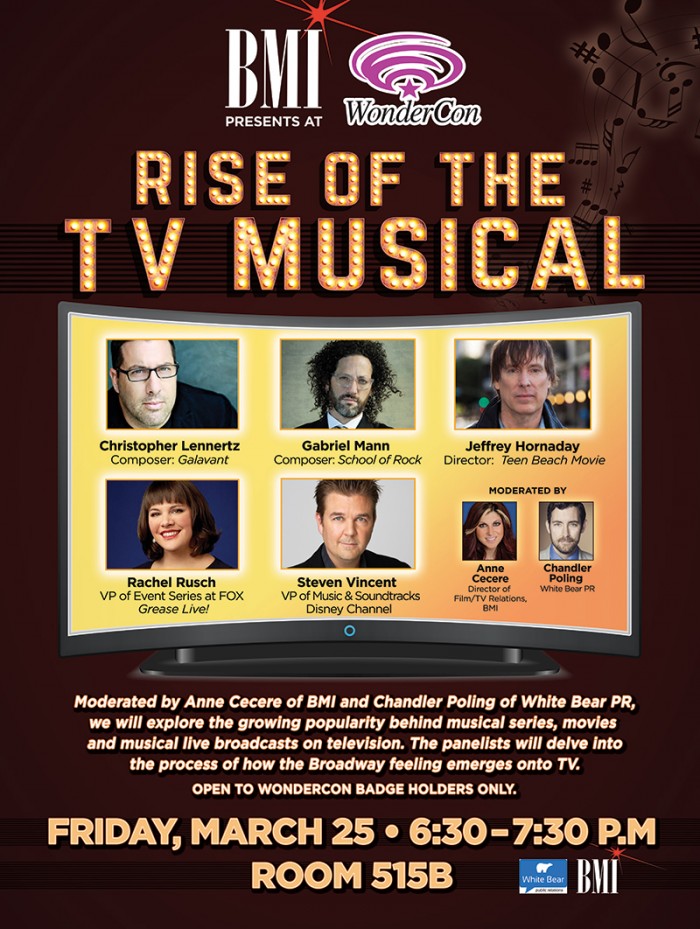 Subscribe to BMI's The Weekly
Each week, Learn, Listen, Watch, Discover and Share with BMI! From must-see videos, to creative inspiration and dynamic playlists we're excited about, BMI's The Weekly is dedicated to delivering specially curated content designed for music creators and music fans alike!