March 19, 2015
Lamberts/BMI Day Party @ SXSW 2015
BMI, Lamberts, and Eye in the Sky Collective present the 2nd Annual Lamberts/BMI Day Party, taking place at Lamberts Downtown Barbeque (410 West 2nd Street, Austin, TX), from noon to 6:00 PM.
FREE & OPEN TO THE PUBLIC
Performances By:
12:00 PM - The Suffers (www.thesuffers.com)
12:50 PM - Lev (www.facebook.com/levthemusic)
1:40 PM - Blue Healer (www.facebook.com/pages/BLUE-HEALER)
2:30 PM - East Cameron Folkcore (www.eastcameronfolkcore.com)
3:20 PM - Magna Carda (www.facebook.com/magnacarda)
4:10 PM - Sol Cat (www.solcatmusic.com)
5:00 PM - BLXPLTN (http://www.blxpltn.com)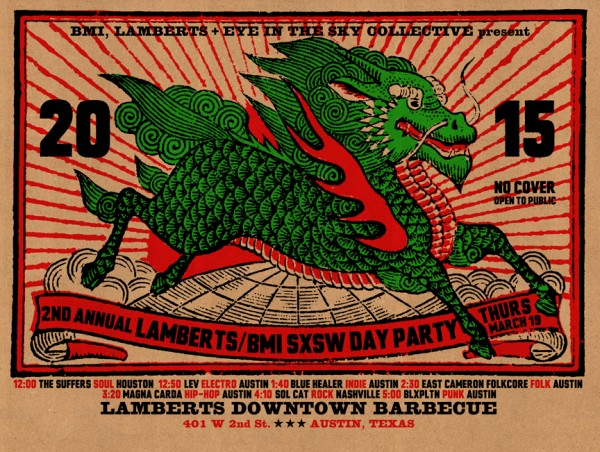 Subscribe to BMI's The Weekly
Each week, Learn, Listen, Watch, Discover and Share with BMI! From must-see videos, to creative inspiration and dynamic playlists we're excited about, BMI's The Weekly is dedicated to delivering specially curated content designed for music creators and music fans alike!