December 6, 2013
Combustion Music Hope Town Music Festival: Abaco Islands, Bahamas
BMI, along with Hope Town Harbour Lodge, presents the 1st Annual Combustion Music Hope Town Music Festival, December 5-9, 2013 on the Abaco Islands, Bahamas.
Hosted by GAC's Storme Warren, this festival will feature three days of great free performances from top songwriters and artists, including Jon Pardi, Dallas Davidson, Blair Daly, Kree Harrison, Native Run, Chris Farren, Ashley Gorley, Johnnie & Joe, Chris DeStefano, Rodney Clawson and Nicolle Galyon, at different venues across the island.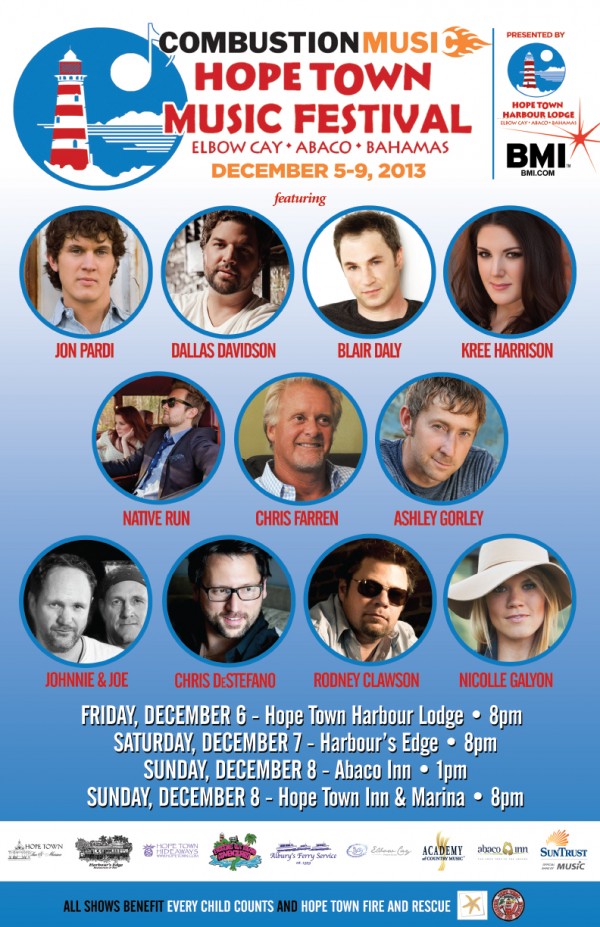 Subscribe to BMI's The Weekly
Each week, Learn, Listen, Watch, Discover and Share with BMI! From must-see videos, to creative inspiration and dynamic playlists we're excited about, BMI's The Weekly is dedicated to delivering specially curated content designed for music creators and music fans alike!