September 7, 2013
BMI Stage @ LouFest: St. Louis
BMI is proud to host a stage at the 2013 LouFest Music Festival in Forest Park, St. Louis, MO, September 7-8. The fourth annual (LouFest) will feature more than 30 local, regional and national acts, ranging from funk and indie-rock to alt-country and soul.
Saturday, September 7
12:15 pm - Kentucky Knife Fight (kentuckyknifefight.net)
1:45 pm - Modoc (www.modocmusic.com)
3:30 pm - Space Capone (spacecapone.com)
5:30 pm - Desert Noises (www.desertnoisesmusic.com)
7:30 pm - Wild Belle (www.wildbelle.com/us)
Sunday, September 8
12:15 pm - The Lonely Biscuits (thelonelybiscuits.com)
1:45 pm - Andrea Davidson (andreadavidson.net)
3:30 pm - Tef Poe (www.tefpoe.com)
5:30 pm - Wild Cub (wildcubmusic.com)
7:30 p.m.- Brick + Mortar (brmr.net)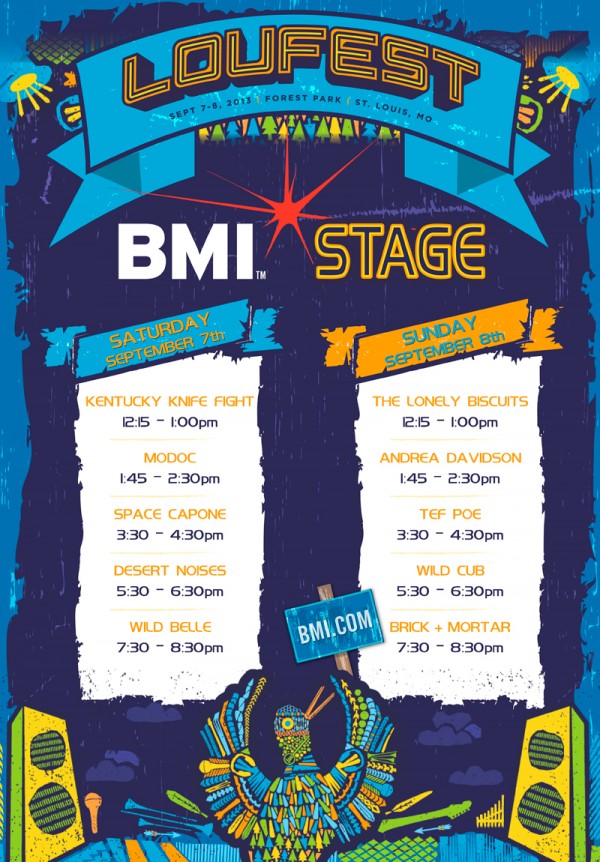 Subscribe to BMI's The Weekly
Each week, Learn, Listen, Watch, Discover and Share with BMI! From must-see videos, to creative inspiration and dynamic playlists we're excited about, BMI's The Weekly is dedicated to delivering specially curated content designed for music creators and music fans alike!