March 30, 2013
BMI Presents @ Wondercon: Anaheim, CA
BMI, along with White Bear PR presents "The Music That Makes You Scream" panel featuring BMI Film & TV composers who will be discussing the process of scoring for screams at the 2013 Wondercon, at the Anaheim Convention Center (700 W. Convention Way, Anaheim, CA), Room 208, 10:30-11:30 AM. BMI Director, Film/TV Relations Anne Cecere and White Bear PR Founder Chandler Poling will moderate this spine tingling panel.
Panelists
Tyler Bates (@tyler_bates) - "Day of the Dead" & "Halloween II"
Anton Sanko (@antonsanko) - "The Possession" & "Nurse 3-D"
Frederik Wiedmann (@freddiewiedmann) - "Mirrors" & "Hostel III"
Dino Meneghin (@DM_LA) - "Teen Wolf"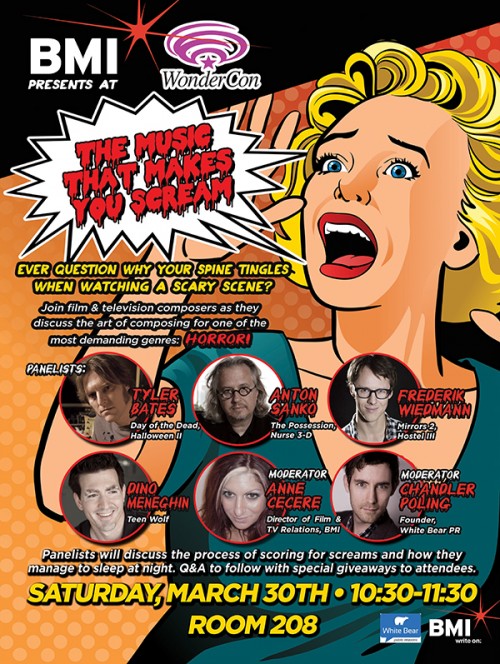 Subscribe to BMI's The Weekly
Each week, Learn, Listen, Watch, Discover and Share with BMI! From must-see videos, to creative inspiration and dynamic playlists we're excited about, BMI's The Weekly is dedicated to delivering specially curated content designed for music creators and music fans alike!