January 23, 2013
15th Annual Composer/Director Roundtable @ Sundance: Park City, UT
BMI and the Sundance Film Festival will present the 15th annual Composer/Director Roundtable with Peter Golub, Composer and DIrector of Sundance Composers Lab, Blake Neely,Composer Lab Advisor and will be moderated by BMI Vice President Film/TV Doreen Ringer Ross. The Roundtable will take place from 11:00 AM to 1:00 PM at the Sundance House presented by HP (638 Park Avenue, Park City, UT).
Join panelists Mark Isham & George Tillman, Jr. ("The Inevitable Defeat of Mister and Pete"), along with Lili Haydn & Frieda Mock ("Anita"); Craig Richey & R.J. Cutler ("The World According to Dick Cheney"); Rob Simonsen & James Ponsoldt ("The Spectacular Now"); Craig Wedren & Jill Soloway ("Afternoon Delight"); Abel Korzeniowski & Randy Moore ("Escape from Tomorrow"); Dustin O'Halloran & Drake Doremus ("Breathe In"); Miriam Cutler & Michele Stephenson ("American Promise"); Ilan Eshkeri & Jerusha Hess ("Austenland"); Ludwig Goransson & Ryan Coogler ("Fruitvale"); Mark De Gli Antoni & Roger Ross Williams ("God Loves Uganda"); Gary Lionelli & Robert Stone ("Pandora's Promise"); Marco D'Ambrosio & Jacob Kornbluth ("Inequality for All")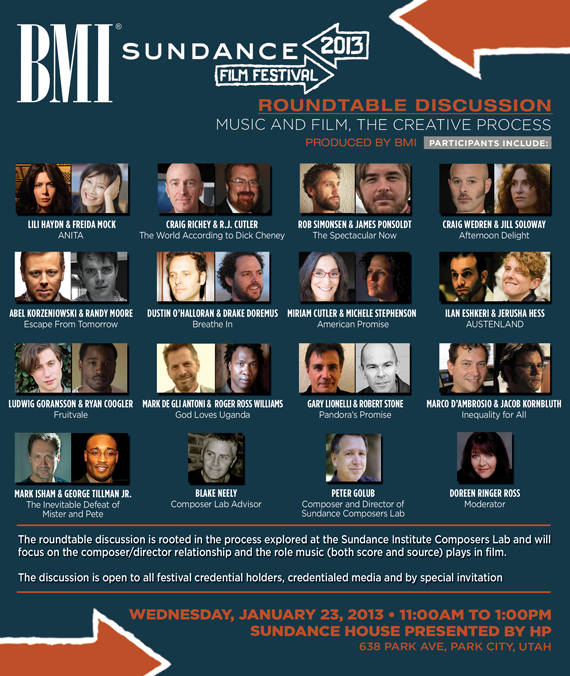 Subscribe to BMI's The Weekly
Each week, Learn, Listen, Watch, Discover and Share with BMI! From must-see videos, to creative inspiration and dynamic playlists we're excited about, BMI's The Weekly is dedicated to delivering specially curated content designed for music creators and music fans alike!