April 15, 2012
BMI @ French Quarter Festival: New Orleans
The BMI-day stage at the 2012 French Quarter Festival will feature 16 of the region's finest up-and-comers on Saturday, April 14 and Sunday, April 15, from 11:00 AM to 5:00 PM at the Historic New Orleans Collection.
Today's performances by:
11-11:30 am – Reed Alleman (www.myspace.com/reedallemanmusic)
11:45 am-12:15 pm – Armand St. Martin (www.myspace.com/armandstmartin)
12:30-1:00 pm – Jalan Crossland (www.jalancrossland.com)
1:15-1:45 pm – Olga Wilhemine (www.laolga.com)
2:00-2:30 pm – David Shaw (www.therevivalists.com)
2:45-3:15 pm – Jim McCormick (www.myspace.com/jimmccormickmusic) & Jason Matthews (jasonmatthewsonline.com)
3:30-4:00pm – Colin Lake (colinlake.com)
4:15-5:00pm – The Backyard Heavies (www.youtube.com)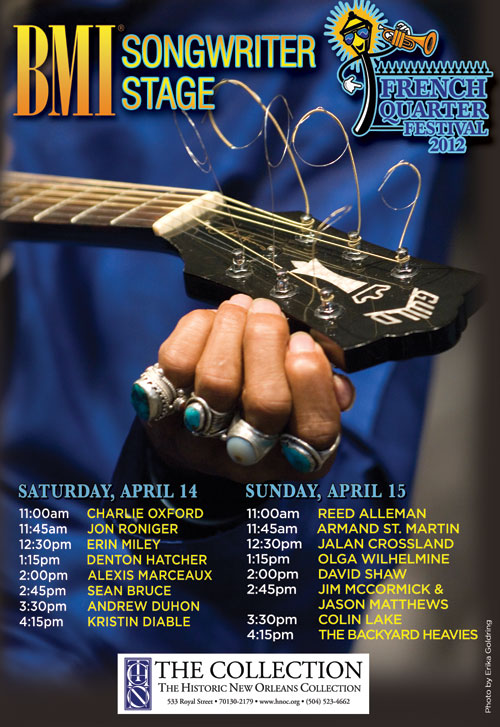 Subscribe to BMI's The Weekly
Each week, Learn, Listen, Watch, Discover and Share with BMI! From must-see videos, to creative inspiration and dynamic playlists we're excited about, BMI's The Weekly is dedicated to delivering specially curated content designed for music creators and music fans alike!