February 11, 2012
BMI @ The Grammys "How I Wrote That Song": Los Angeles
BMI Urban Icon Rev Run, RedOne, DJ Khaled, RZA, and Good Charlotte's Joel and Benji Madden will participate in BMI's "How I Wrote That Song," taking place from 12:00–2:00 PM at The Key Club (9039 Sunset Blvd., West Hollywood, CA). Doors open at 11:00 AM. This panel discussion is an annual pre-Grammy weekend event that celebrates Grammy winners and nominees, and also serves as a platform for panelists to discuss the process of writing, producing and performing hit songs and will be moderated by Catherine Brewton, BMI Vice President, Writer/Publisher Relations, Atlanta.
BMI's "How I Wrote That Song" is open to the public, ages 18 years & up. Tickets are $15 in advance, $20 the day-of the panel. Tickets can be purchased at www.keyclub.com.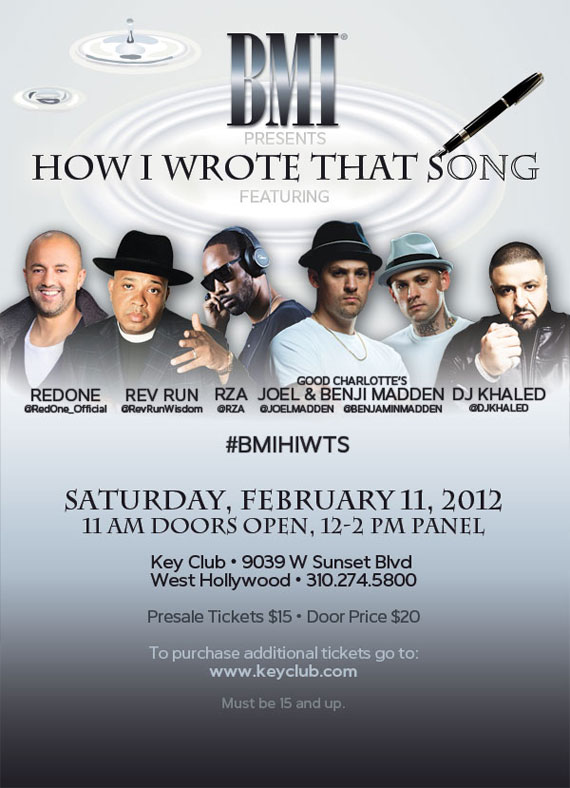 Subscribe to BMI's The Weekly
Each week, Learn, Listen, Watch, Discover and Share with BMI! From must-see videos, to creative inspiration and dynamic playlists we're excited about, BMI's The Weekly is dedicated to delivering specially curated content designed for music creators and music fans alike!