June 24, 2011
BMI Athfest Showcase: Athens GA
BMI showcase at the Melting Point (295 E. Dougherty Street) during Athfest 2011 in Athens, GA. Ages 18 & older - 9:00 PM.
Performances by:
10:00 PM - Gringo Star (www.gringostar.net)
11:00 PM - Modern Skirts (www.myspace.com/modernskirts)
12:00 AM - Gift Horse (www.myspace.com/gifthorsetheband)
1:00 AM - Venice is Sinking (veniceissinking.tumblr.com)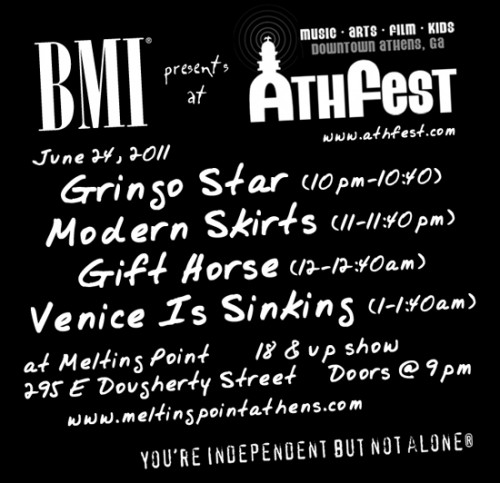 Subscribe to BMI's The Weekly
Each week, Learn, Listen, Watch, Discover and Share with BMI! From must-see videos, to creative inspiration and dynamic playlists we're excited about, BMI's The Weekly is dedicated to delivering specially curated content designed for music creators and music fans alike!