October 20, 2010
BMI Showcase @ CMJ: New York
BMI showcase during CMJ 2010 at Bar Matchless (557 Manhattan Avenue, Brooklyn, NY). Open Bar from 6:00-7:00 pm.
Performances by:
7:00-7:30 PM - Debutaunts (www.debutaunts.com)
7:45-8:15 PM - Lesands (www.myspace.com/lesands)
8:30-9:00 PM - White Belt Yellow Tag
9:15-9:45 PM - Heypenny (www.myspace.com/heypenny)
10:00-10:30 PM - Whale Tooth (www.myspace.com/whaletooth)
10:45-11:15 PM - Vanaprasta (www.myspace.com/vanaprasta)
11:30-Midnight - Deluka (www.myspace.com/deluka)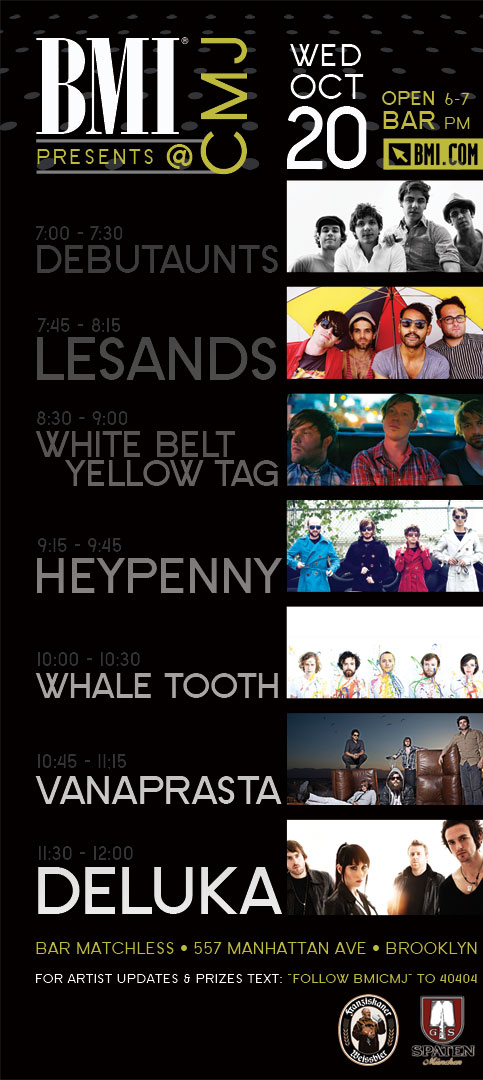 Subscribe to BMI's The Weekly
Each week, Learn, Listen, Watch, Discover and Share with BMI! From must-see videos, to creative inspiration and dynamic playlists we're excited about, BMI's The Weekly is dedicated to delivering specially curated content designed for music creators and music fans alike!