October 22, 2008
A Fiery Line-Up to Play BMI/CMJ Showcase
BMI has announced the performers at its 2008 sponsored CMJ Music Marathon Festival showcase to be held Wednesday, October 22 at 7:30 p.m. A diverse line-up of talent will hit the stage at Crash Mansion (199 Bowery, NYC), continuing CMJ's 28-year history of celebrating new music first. The cost for non-registered CMJ attendees is $5 before 9pm and $10 after; free drinks will be available from 7:30 -8:30 p.m.
The line-up at the BMI/CMJ showcase will include seven auspicious acts: valiant imports Hypernova; poignant storytellers Passenger; street-funk amalgamators Blonde Acid Cult; explosive wordsmith Watt White; hook-laden Nelo; genre-smashing Outernational; and southern rockers Ponderosa.
BMI continues its association with the CMJ Music Marathon Festival by hosting an information booth October 21-25 at the Exhibit Hall, located in the penthouse of New York University's Kimmel Center in Greenwich Village (60 Washington Sq. South).
The schedule for the BMI-sponsored CMJ Marathon Music Festival is as follows:
Wednesday, October 22, 2008 – Crash Mansion
7:30 p.m. – Nelo: In today's pop culture world where music idols are auditioned, judge, anointed and forgotten, Nelo took the opposite route and worked their tails off to promote their Justice Records self-titled debut release featuring lead single "You Don't Know." www.myspace.com/nelomusic
8:15 p.m. – Passenger: With brilliant songwriting and a quick-witted sense of humor, five-member band Passenger revels in engaging their fans with the raw, core-influenced sound displayed on their debut CD, Wicked Man's Rest. www.myspace.com/passengerofficial
9:00 p.m. – Ponderosa: Ponderosa's catalog of campfire songs, southern rock anthems and drunken two-step shuffles has received the adulation of fans who flock to their jaw-dropping performances throughout the southeast region. www.myspace.com/ponderosamusic
9:45 p.m. – Watt White: After logging several years fronting NYC-based punk metal band The Smash Up, Watt picked up a pen and drew from an untapped realm of melodies and lyrics to create the first half of his debut Dare Anything. www.myspace.com/wattwhite
10:30 p.m. – Outernational: With raves from credible elites like BBC Radio, MTV News and The Village Voice, Outernational recently finished up recording their debut CD with Tom Morello (Rage Against The Machine), soon to be released on Warner Bros. Records. www.myspace.com/outernational
11:15 p.m. – Blonde Acid Cult: Influenced by Manchester's Hacienda party scene as much as they are by James Brown drum breaks and punk-rock hip-hop like the Beastie Boys, Blonde Acid Cult are really inspired by their own scene of friends, and people who trip to independent beats. www.myspace.com/blondeacidcult
12:00 a.m. – Hypernova: After playing numerous secret gigs in their homeland of Iran, Hypernova's exodus to Los Angeles birthed their debut, Through The Chaos, which has received favorable press from MTV, The New York Times, NPR and ABC. www.myspace.com/hypernovamusic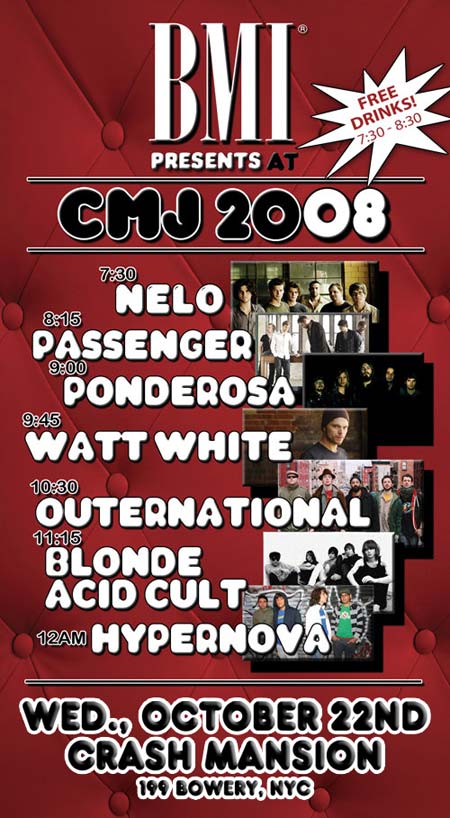 Subscribe to BMI's The Weekly
Each week, Learn, Listen, Watch, Discover and Share with BMI! From must-see videos, to creative inspiration and dynamic playlists we're excited about, BMI's The Weekly is dedicated to delivering specially curated content designed for music creators and music fans alike!