October 14, 2007
Big State Festival: Texas
Big State Festival puts more than 50 country music stars on 5 stages over 2 days at the wide open spaces of Texas World Speedway, Bryan-College Station, Texas.
The BMI Stage will feature:
On October 13th - Monte Warden, Ginn Sisters, Rodney Hayden, Kevin Gordon, The Gougers and Drew Kennedy.
On October 14th - Colin Gilmore, Mark McKinney, Blue Mother Tupelo, Jerrod Niemann, Sunny Sweeney, and Granger Smith.
For more information on the festival, go to Big State.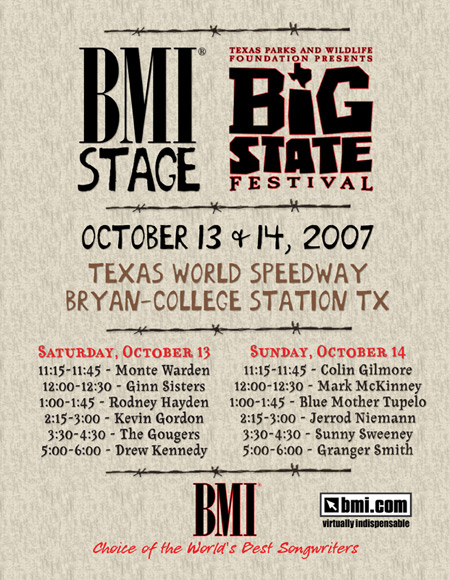 Subscribe to BMI's The Weekly
Each week, Learn, Listen, Watch, Discover and Share with BMI! From must-see videos, to creative inspiration and dynamic playlists we're excited about, BMI's The Weekly is dedicated to delivering specially curated content designed for music creators and music fans alike!