Warner Bros. Recording Artist Curren$y to Headline BMI's 15th Annual Unsigned Urban Showcase
BMI along with sponsors V-103 – The People's Station, Monster® Products and on-demand driving service Uber, will present its 15th Annual Unsigned Urban Showcase Thursday, April 11, featuring a combination of the recording industry's eminent stars and most-promising unsigned talent. Staged at Terminal West (887 West Marietta St NW, Atlanta, GA), the doors open at 8 p.m.; the show begins at 9 p.m. The festivities are open to the public; attendees must be at least 18 years of age with valid identification. Tickets are $20 and are available for purchase here: http://bit.ly/16msas7
Aspiring artists from all urban genres, including r&b, rap and hip-hop, were encouraged to apply for the opportunity to perform at this lauded, star-spotting annual showcase. Pulled out of the 200 submissions received, four finalists including Jade Novah, Spree Wilson, Skipper Jones and Dezzy Yates the Phreshbot will compete in front of a panel of music industry heavyweights, including top executives, producers, and attorneys. The winner will receive an array of prizes including tickets to the 2013 BMI Urban Awards.
G.O.O.D. Music ingénue Teyana Taylor will co-host the event alongside BMI Director, Writer-Publisher Relations Byron Wright, who will lead the contestants through the Unsigned Urban Showcase competition. Byron states, "Providing a platform for unsigned singer-songwriters to showcase their talent is a major priority for BMI. The four diverse finalists selected to perform at our event are on the cusp of stardom and we're honored to showcase them to Atlanta's music community."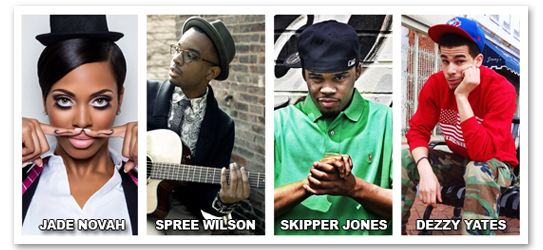 Along with the unsigned talent, the highly anticipated night of music will feature a performance by Warner Bros. Records rapper Curren$y. A native of New Orleans, Curren$y has steadily built a legion of fans since his affiliation with Master P's No Limit Records in 2002. After a stint at Cash Money Records, he self-released several mixtapes including the Alchemist-helmed Covert Coupe, which earned a spot in SPIN Magazine's "50 Mixtapes You Need" list. While expanding his interests with his apparel and lifestyle brand J.E.T.S (Just Enjoy This Sh*t), Curren$y released his Warner Bros. Records debut, The Stoned Immaculate, and most recently was bestowed XXL magazine's "2012 EP of the Year" Award for his Cigarette Boats project with Harry Fraud.
The night provides a unique opportunity for BMI affiliates to showcase before a room of industry professionals. The final four will perform for a panel of celebrity judges including songwriter/producer Stevie J (Mariah Carey, Notorious B.I.G); social media savant Karen Civil (KarenCivil.com, Live Civil); Atlantic Records Senior Vice President, A&R Dallas Martin; Gordon & Rees LLP attorney & Partner Donald Woodard; DTP Records Senior A&R Paris Kirk; producer Sonny Digital (Future, Kanye West); and Motown Records Vice President, A&R Ezekiel Lewis.
BMI will also present the Legends of ATL Award to a community leader, recognizing his or her contributions to the Atlanta music scene. Past recipients of the prestigious honor include Devyne Stephens, Big Boi, Big Oomp, Organized Noize, Dallas Austin, Lil' Jon, and Mr. Collipark.