Tom T. Hall to be Honored as BMI Icon at 60th BMI Country Awards
BMI will celebrate the incredible songwriting career of Tom T. Hall by naming him a BMI Icon at the company's 60th annual Country Awards. The private ceremony will be held on Tuesday, October 30 at BMI's Music Row offices in Nashville.
The BMI Icon award is given to songwriters who have had a "unique and indelible influence on generations of music makers." An all-star musical tribute will pay homage to Hall, who joins a list of past honorees that includes Billy Sherrill, John Fogerty, Kris Kristofferson, Willie Nelson, Isaac Hayes, Merle Haggard, Brian Wilson, Dolly Parton, Loretta Lynn, the Bee Gees, Bobby Braddock, Ray Davies, James Brown and more.
Tom T. Hall is one of the original master craftsmen of country music, a distinct voice who elevated the art form by staying true to himself and fostering a sincere respect for his listeners.
Like the most expertly crafted short stories, Hall's songs are detailed vignettes, vivid and familiar thanks to his unwavering devotion to the sharply drawn characters who populate them. The Kentucky native's approach earned him the nickname "The Storyteller." As a recording artist, Hall had seven No. 1 singles, all self-penned: "A Week in a Country Jail" (1969–70), "The Year That Clayton Delaney Died" (1971),"(Old Dogs, Children and) Watermelon Wine" (1972–73)," "I Love" (1973–74), "Country Is" (1974), "I Care" (1974–75), and "Faster Horses (the Cowboy and the Poet)" (1976). The Grammy winner also famously wrote smashes for others, including "Harper Valley P.T.A.," which Jeannie C. Riley took to No. 1 on country and pop charts in 1968, as well as "The Pool Shark," a chart-topper for Dave Dudley; "(Margie's at) the Lincoln Park Inn" and "That's How I Got to Memphis," recorded by Bobby Bare; and "Little Bitty," a mega-hit for Alan Jackson in the late 90s. Hall has earned a total of 31 BMI Awards for songwriting spanning country and pop genres, and six of his songs have accumulated more than one million performances each. In 2008, he was welcomed into the Country Music Hall of Fame. In 2011, songwriters Eric Brace and Peter Cooper produced their own take on seminal 1974 children's album Songs of Fox Hollow. The project, I Love: Tom T. Hall's Songs of Fox Hollow, featuring top-tier roots artists delivering new versions of the classic songs, was nominated for a Grammy, reflecting the undiminished resonance of Hall's music.
In addition to Americana, it should also be noted that since Hall's retirement from touring, he has enjoyed mega writing success in the worlds of both traditional and modern bluegrass music and old time country, as well as classic and progressive country. He has collaborated extensively with his wife Miss Dixie, and the Halls were named SPBGMA Songwriter of the Year for 10 consecutive years, garnering them the Master's Gold and Grand Master's Gold award.  It is never surprising to see as many as five or six Hall compositions at a time in the bluegrass charts, several of them reaching No. 1, such as "Bill Monroe For Breakfast," which Hall recorded himself; a new version of "That's How I Got To Memphis" by Charlie Sizemore; "Clinch Mountain Mystery" by The Larry Stephenson Band; "Train Songs" by Ralph Stanley II; "Train Without a Track" by Junior Sisk and Rambler's Choice; and "The Boys In Hats and Ties" by Big Country Bluegrass, just to name a few.
Hall's personal story is also uniquely tied to BMI: He met Miss Dixie, his wife of 45 years, at the 1965 BMI Country Awards in Nashville.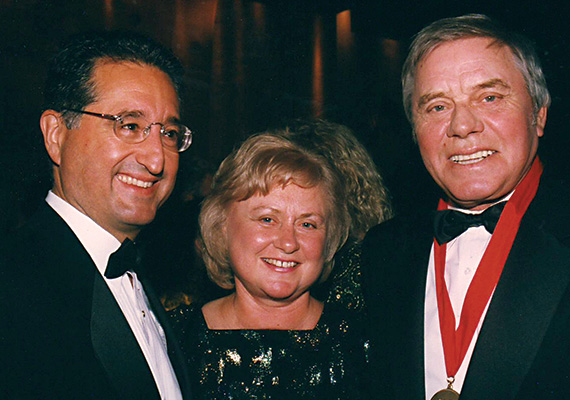 BMI's CEO Del Bryant, Dixie and Tom T. Hall at the 1997 BMI Country Awards, where his song, "Little Bitty" won a Country Award.Photo: BMI Archives
For more on Tom T. Hall, read Peter Cooper's feature in BMI MusicWorld.
During the BMI Country Awards, BMI will crown the Country Songwriter, Song and Publisher of the Year and salute the writers and publishers of the past year's 50 most-performed songs from BMI's country catalog. BMI President & CEO Del Bryant will host the ceremony with Jody Williams, BMI Vice President, Writer/Publisher Relations, Nashville; and Clay Bradley, BMI Assistant Vice President, Writer/Publisher Relations, Nashville.