Sweet Dreams: Roy Orbison and the Birth of the Pop Masterpiece
BMI legend Roy Orbison - rock & roll's greatest singer, a crooning rockabilly Caruso who brought opera's high drama to the malt shop jukebox, broke the hearts of bobbysoxers, and pioneered the three-minute pop masterpiece - started out in a dust-covered oven called Wink. He was a West Texas sensation by the time he was 17, playing to crowds as big as 10,000 in 100 degree heat and hosting his own radio show. Pale and wiry, with thick glasses, Orbison had a voice big enough to fill the flat Texas emptiness, and when he welded it to his mean, skittering electric guitar, he shot sparks. Orbison knew what he had, and he rode it like a rocket all the way to Memphis, first, and then, history.In 1956, a failed vacuum-cleaner salesman named J.R. Cash appeared on Roy's radio show in Texas. Dubbed "Johnny" by Sam Phillips, the novice Cash was touring behind his first single on Sun, "Hey Porter" b/w "Cry, Cry, Cry." Cash and Orbison hit it off, and Cash passed along the phone number for Phillips at Sun Records in Memphis. When Orbison made the long-distance call to introduce himself and pass along Cash's recommendation, Phillips screamed, "Johnny Cash doesn't run my company!" and slammed down the phone.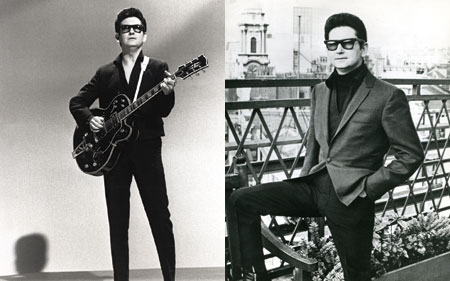 LEFT: Photo courtesy of Barbara Orbison Productions, RIGHT: Photo courtesy of BMI Archives
Just like he had with Elvis Presley, Phillips signed Orbison reluctantly. Phillips's heart belonged to artists like the 300-pound blues powerhouse Howlin' Wolf, who Phillips championed as the most significant artist he ever recorded, proclaiming Wolf's music "where the soul of man never dies." But with the gale force of Elvis howling all around him - and with Wolf gone to Chicago to join Muddy Waters and Chuck Berry at Chess - Phillips knew he could make lightning strike twice in his slapback-slathered Memphis echo chamber. And he did - again and again - but not with Roy Orbison.
Orbison unleashed a string of Sun singles that to this day stand as rockabilly Rosetta stones and BMI treasures: "Ooby Dooby," "Go! Go! Go!," "Domino," "Rockhouse," "Claudette," "Devil Doll." Just saying the titles out loud feels like dancing.  But in a post-Presley stampede of pompadoured rockabilly hell-cats clawing for the charts, Orbison got lost. "Ooby Dooby" scooted up to No. 59, but that's about it.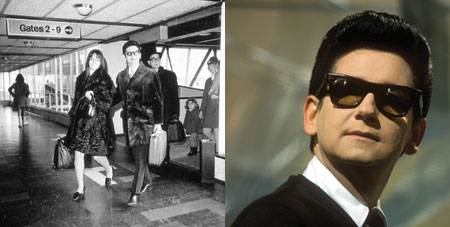 LEFT: Roy Orbison (right), with wife Barbara Orbison (left), Photo courtesy of Barbara Orbison Productions, RIGHT: Photo courtesy of Barbara Orbison Productions
Orbison left Memphis in 1958 and moved to Nashville, where he landed a job as a songwriter for Acuff-Rose publishing and a short-lived contract with RCA. When the RCA deal fell through, it seemed like the Texas teen king, who started out at just 13, would be washed up at 23. Nobody seemed to know what to do with Roy Orbison.
Enter Fred Foster. In the spring of 1959, Wesley Rose of Acuff-Rose, Roy's de facto manager, called Foster and asked him to sign Orbison to his fledgling Monument label. Foster heard the power and depth in Orbison's voice, knew nobody had been able to capture it, and decided to frame it with the sweet, string-heavy Nashville sound pioneered by Chet Atkins at RCA. After a couple cuts that bridged the sound of Sun and what was to come ("With the Bug," "Pretty One," "Uptown"), Foster told him the next song would be the most important of his career. He was right.
On March 25, 1960, Roy Orbison entered the RCA-Victor studio in Nashville for a session with guitar greats Hank Garland and Grady Martin, pianist Floyd Cramer, the Anita Kerr singers and a full string section. Over a happy dum-diddy-doo-wah vocal, bouncing guitar and sugary strings, Orbison steps up to the mic and sings one of rock & roll's most famous opening lines: Only the lonely know the way I feel tonight.
Orbison starts softly, almost sighing along with the production. And then, with full force, he nails an unexpected falsetto in the line "That's the chance you have to take…" and jolts the song to a standstill. The sound of that "you" is staggering, transcending everything else in the song, and everything else Orbison had done before. It is the sound of a legend being born.
On playback, everyone knew what they had captured. Everyone except Orbison, that is. Foster offered to pay him for a million copies upfront if that's all he'd ever owe on the song, but as a friend, urged him not to take the deal. Within weeks, "Only the Lonely" was a hit all over the world.
It was a magical session, but perhaps the most extraordinary moment happened with no tape rolling. Early in the day, as the musicians were learning their parts, bass player Bob Moore suggested they needed to put the song into meter so kids could dance to it. Orbison responded, "I don't want people to dance to my songs."
What an incredible declaration. It was 1960. Rock & roll - on the wane after a series of deaths, arrests and scandals - was and had always been dance music. With his answer, Orbison revealed his artistic vision: This music could be about more than dancing; it could move people emotionally as well as physically. With the string of incredible singles he recorded after "Only the Lonely," he proved it. "Running Scared," "I'm Hurtin'," "In Dreams," "Crying," and perhaps the song that most seamlessly combined Orbison's ability to rock and pine at the same time, "Oh, Pretty Woman," stand today as cornerstones of BMI's extensive catalog, and some of the most beautifully written, performed and recorded songs of all time.
These timeless Orbison classics are the seeds that would bloom into popular music as we now know it. In keeping with its founding principles to provide representation for songwriters of blues, country, jazz, r&b, gospel, folk, Latin and, ultimately, rock & roll, BMI still provides a home for the original musical earth-shakers and game-changers, including Chuck Berry, Muddy Waters, Howlin' Wolf, Buddy Holly, Jerry Lee Lewis, Elvis Presley, Carl Perkins and the Everly Brothers - all legends who recorded music that changed the world. But there is a special place in history and at BMI for Roy Orbison, who inspired so many incredible artists to write rock & roll that reached for the music's emotional depths. His influence can be heard in countless beautifully crafted pop and rock songs, songs that dreamily plunge headfirst into lost love and loneliness, reaching out to the hearts of listeners.
But it is a mistake to measure Orbison solely by the weight of his influences. That is not what makes "Only the Lonely," "Oh, Pretty Woman" or any of his other songs jump from the speakers nearly 50 years later. His music lives today, just as vibrantly as the day it was cut, because he was an unbelievably powerful singer, writer and performer. Who else could lead a band featuring Bruce Springsteen, Elvis Costello, Tom Waits, Jackson Browne, Bonnie Raitt, James Burton, and k.d. lang - as Orbison did in the incredible Black and White Night concert, filmed when he was in his 50s - and hold both the audience and the band spellbound, not just with his voice, but with his very presence? And who else could form a band with Bob Dylan, Tom Petty and George Harrison, and provide the vocal hook that rocketed the band's song to the top of the charts, as Orbison did in the Traveling Wilburys?
That vocal hook that Orbison sings on the Wilbury's "Handle with Care" is "I'm so tired of being lonely/I still have some love to give." Sadly, Orbison died soon after the song's success, in December 1988. But that line he sings, like all his heartfelt music, is utterly devoid of irony. His last album, Mystery Girl and its single "You Got It," were released posthumously. They were both hits. It was a fitting reminder that Orbison will live forever, in the hearts of millions, in BMI's extraordinary catalog, and in the inspiration of each new generation that discovers his music.
Today, the classic look of Roy Orbison, skinny, with a slick-backed black pompadour and dark sunglasses, is one of the truly iconic and timeless images of rock & roll. But it is his music, the amazing songs he wrote and performed, and his haunted and haunting, beautiful singing that allow him to live forever as one of the most influential and powerful artists of all time. Once you hear Roy Orbison, his voice never leaves you. Just close your eyes and listen: You'll hear him now.