10-year-old Connor Smith writes songs. "I've been writing songs for two or three years," the Nashville native says simply, seemingly unaware that knocking out melodies and rhymes at age 7 is rare—even for a budding journeyman.
"I'm more into writing songs [than performing]," he says, smiling, before clarifying, "I like both. I just have a passion for songwriting." In the midst of endless commentary bemoaning the youngest generation's fame-hunger and alarming exhibitionism, Connor doesn't merely interrupt the status quo. He calmly turns it on its ear.
And how. Last spring, as floods devastated much of Middle Tennessee, neighbors banded together, and countless individuals eagerly volunteered time, money and sweat to help hard-hit communities rebuild. Connor wanted to roll-up his sleeves, too, and on a family trip to the coast, he did it his way.
He'd brought along his guitar for a cook-out on the beach, noting as he remembers the vacation that he's always happy to play his music for anyone who'll listen. Looking down at the waves from the comfort of the condo, inspiration struck. "I just thought, 'I should go down there and try to earn money for a good cause,'" he says, and with his mother's permission, he high-tailed it to the beach to serenade sunbathers and collect small tips to donate to flood relief.
"I thought I'd play one song, and then move to the next group," he remembers. "But I was surprised. Some people—a couple of people—asked me to come back around because they needed to go and get their wallets.
"I thought they'd give me a couple of cents, maybe," he continues. "But people gave me $5 and $20 bills. I was surprised," he says again, smiling, "and very happy." After close to two sunny hours of barefoot song-slinging on the beach, Connor had collected $200.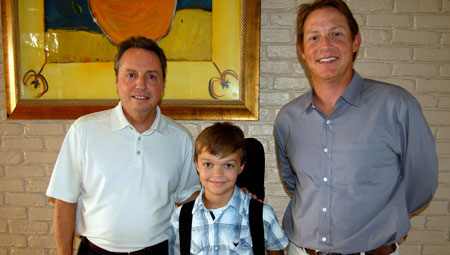 Connor Smith officially joins the BMI family of songwriters. Pictured are BMI's Jody Williams, Smith, and BMI's Clay Bradley. (Photo by Drew Maynard)
When his parents told him about BMI's offer to match donations to the Community Foundation of Middle Tennessee, he knew that as a songwriter, he wanted to support BMI's initiative to help flood victims. He donated his ocean-front earnings to the BMI Flood Relief Fund when he got home.
With the confidence of a veteran and the instinctual empathy of a child, Connor connected with an audience en route to connecting with his community. And reflecting on his listeners' responses that day still casts a warm glow over his tanned young face. "Some people wanted photos with me—one person was amazed that I wrote the song," he says. "I'd sing one, and then they'd want to hear more." He pauses and grins. "That made me feel good."