For Greg Reitan, Home is Where the Art is
Pianist-composer Greg Reitan's home was advertised as an "artist's retreat" when he found it perched atop a hill like an eagle's aerie overlooking Pasadena, California. But it's become a redwood, glass and steel muse, providing the marvelously fluid keyboardist a comfortable space for composing music for his inspired jazz trio albums as well as television and films — and for recording.
The new Daybreak is Reitan's third disc with longtime accompanists bassist Jack Daro and drummer Dean Koba. Similar to 2010's Antibes, the set has a post-bop élan that seamlessly integrates originals like "The Bells of Soledad," which has the pace of a summer's wind, with reharmonized standards by Miles Davis, Wayne Shorter and other giants whose footsteps Reitan expands with his work.
Reitan's strategy for recording in his modular "Concept 2" unit designed and built by architect J. Lamont Langworthy in 1968 developed as he prepared to cut his 2008 debut Some Other Time.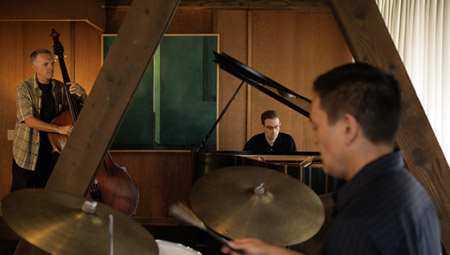 Reitan, bassist Jack Daro and drummer Dean Koba record in "Concept 2."
"We did the math for recording in a conventional studio and decided we needed to get creative," he recounts. So Reitan cut the album live to two-track digital tape using some high quality microphones, two preamps, a small mixer and a DAT recorder after finding the sweet spots for piano, bass and drums within his open floor plan.
"What's on tape goes straight to mastering, since we balance the mix before we hit the record button," he says. "We also have the luxury of not needing to rush through the usual two days of studio time you get for a jazz album, but the vibe is so relaxed that most of 'Daybreak' is first-takes."
Reitan's tracking style harks back to the great 1950s jazz recordings of the Blue Note label's Rudy Van Gelder, who cut classic LPs in a Hackensack, N.J. living room. But Reitan's modernist compositional sensibility began gestating with his first jazz piano lessons at age 10 in his native Seattle.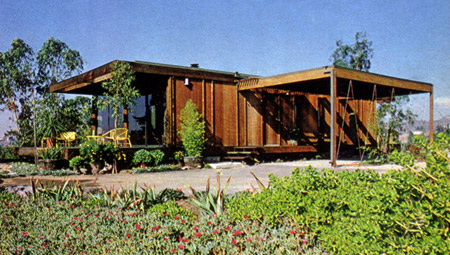 Greg Retain's home, "Concept 2."
After scholarships to Boston's Berklee School of Music and his home city's Cornish College of the Arts, Reitan studied classical composition and film scoring at the University of Southern California's Thornton School of Music in L.A. In 1991 he was a finalist in the John Coltrane Competition, and in '95 Reitan won the Harry Warren Award for Film Scoring and was a finalist in the Great American Jazz Piano Competition. The next year he was a top finalist in the Hennessey Cognac Jazz Search.
NBC News, Warner Bros. and XM Satellite Radio are among his broadcast clients, and Reitan composed the award-winning soundtrack for the 1999 film Dumbarton Bridge as well as music for 2002's Lisa Kudrow comedy Bark!
"When you're doing work for movies and TV, you have to be open to creating things that don't reflect you," Reitan observes. "But my own compositions have an artistic process that's pure and personal. I like them to move in directions that explore harmony, melody and rhythm as I hear them, in an honest and direct way."