Brian Anthony: Hard-Working, Humble & the Luckiest Guy on the Planet
"I'm the luckiest guy on the planet," says singer and songwriter Brian Anthony. The independent career he has forged certainly attests to that contention: He has scored string of singles that have charted high on the dance and pop charts in the U.S., U.K. and Spain, song placements in four feature films, and a deal with Fox Mobile/Jamster to provide cell phone entertainment content, all before the release of his first album, slated to drop later this year. Currently, he is preparing to perform for thousands of people during the opening ceremonies of the 2009 Special Olympics Summer Games in Canada, which has claimed Anthony's moving composition "Champion" as a theme song. Add a breath-taking video shoot recently on the Great Wall of China, and a portrait of a young artist realizing big dreams is thrillingly brought into relief.
On the other hand, Anthony has worked hard to both make his breaks and make the most of them. "I feel like I came out this way, singing and dancing and performing for my big Italian family. It's something I've always done," he explains. At an early age, the San Francisco area native was playing songs he heard on the radio by ear on the piano, and as a child, he studied music, drama and dance. By the time he was 13, Anthony was working part-time in a yogurt shop to finance his recording sessions at a small local studio in order to learn production. He also won a contest sponsored by the NBC Saturday morning TV show Name Your Adventure that gave him a chance to write a song on camera with Boyz II Men.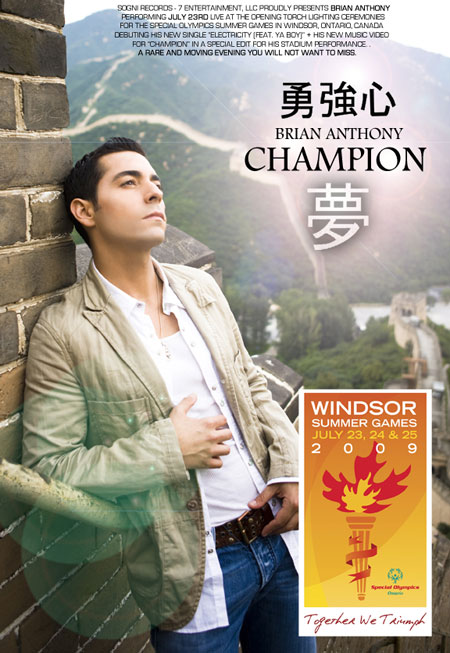 Early inspirations came from artists like Billy Joel and Prince—favorites of his older brother. A Joel concert he attended as a youngster — his very first — solidified his ambitions. "I had dreams about it," he recalls. "When I woke up I literally said, 'That's who I want to be.'" George Michael and later Justin Timberlake provided a model for his career goal of being an all-around musical creator and entertainer.
Since moving to Los Angeles to pursue his career, Anthony has assiduously used the Internet to promote his music and build an audience. "As the world changed, the music industry changed, and I guess I didn't know any better and I started changing with it," he modestly observes.
"I feel like it's something I have to do," he says of making music. And truth be told, luck is only one small part of his rapid rise. "My Dad taught me that I had to work hard for it because nobody was going to give it to me. I have a good work ethic. The music business is a business, and if you don't do the work, you won't be heard."