BMI's Richard Conlon and Other Music Execs Speak Positively about the Future at Billboard's FutureSound Conference
Richard Conlon, SVP Corporate Strategy, Communications & New Media represented BMI at Billboard's FutureSound Conference held in San Francisco on November 15 & 16. On a panel with senior management from Universal Music Group, EMI, Loeb & Loeb LLP, Sound Exchange, and ASCAP, Conlon discussed music licensing on digital innovation. He pointed out that blanket licenses for multiple services simplify the process of accessing rights in a complex and changing environment. The conclusion reached by the panel is that rights holders and technologists will both prosper by recognizing the value of content in the marketplace and the imperative to efficiently monetize content in the digital age.
The aim of the two day think tank was to look for ways to advance the conversation surrounding the most important issues in the digital music business. Other panel discussions included The Fan Pyramid, which explored the different levels of how fans interact, support an artist, and purchase their music; Streaming and Fan Discovery, which elaborated on how streaming plays an important role in the fan ecosystem; Monetization and The Fan, which covered engaging and recognizing the different types of fans; Direct to Fan, which discussed the correlation of bundling music and the profitability of the music industry; and the Direct to Fan Challenge, which covered reaching the casual fan to tell them about upcoming shows. Finally, Billboard's Innovators Showcase demonstrated that what drives fans is the opportunity to connect on a closer level with an artist.
In addition to the panel discussion, BMI and Billboard hosted their annual invitation only Music Industry Thought Leader Dinner bringing together senior executives from the digital media, technology and music industries discussing the future of digital media.
For more information on the FutureSound Conference, please visit hypebot.com.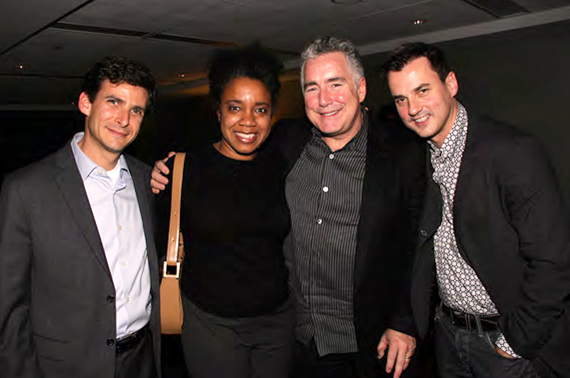 Pictured L-R: BMI's David Levin, Pandora's Delida Costin, BMI's Richard Conlon, and Billboard's Tommy Page