George S. Clinton Receives Top BMI Film/TV Honor
Classic Contribution Award Goes to Conductor/Composer Lucas Richman
BMI honored the composers and songwriters of the music from the past year's top-grossing films, top-rated prime-time network television series and highest-ranking cable network programs at its annual Film & Television Awards. Held May 16 at the Regent Beverly Wilshire Hotel, the black-tie gala was hosted by BMI President & CEO Del Bryant and Film/TV Relations Vice President Doreen Ringer Ross, who handed out more than 80 BMI Crystals throughout the evening.
A highlight of the ceremony was the presentation of the BMI Richard Kirk Award for Outstanding Career Achievement to multitalented film composer George S. Clinton. The prestigious award is given annually to a composer who has made significant contributions to film and television music, with past honorees including Jerry Goldsmith, Thomas Newman, Michael Kamen, John Barry, Mark Mothersbaugh, Danny Elfman, Alan Menken, Mike Post, Lalo Schifrin and John Williams.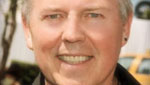 George S. Clinton's versatility and musical prowess have placed the Grammy-nominated maestro in the upper-echelon of Hollywood composers. The recipient of six BMI awards and composer for myriad films, Clinton's scores have lent depth to thrillers including Mortal Kombat and Wild Things ; supplied deft timing to comedic smashes Austin Powers: International Man of Mystery and its two sequels; and helped paint poignant moments in Joe Somebody , quirky moods in 3,000 Miles to Graceland and foreboding atmospheres in The Astronaut's Wife . An active member of the film community, Clinton also serves as an advisor at the Sundance Institutes' Composers Lab.
BMI also recognized accomplished conductor and composer Lucas Richman with the Classic Contribution Award for ten years of service leading BMI's celebrated Conductor's Workshop. A BMI composer, Richman has led the workshop since its inception. Presently Music Director and Conductor for the Knoxville Symphony Orchestra, Richman is a leading expert in conducting and composing, having fashioned an outstanding career as a conductor with numerous symphonies and orchestras in the U.S. as well as collaborator with numerous film composers as their conductor, recording scores for such films as the Academy Award-nominated As Good As It Gets, Face/Off, Seven, Breakdown, Anastasia and The Village.
BMI's Oscar-, Golden Globe- and Emmy-winning composers were also feted, including Gustavo Santaolalla, whose score for Babel earned him his second Academy Award for Original Score; and Alexandre Desplat (SACEM), whose score for The Painted Veil earned him a Golden Globe award for Best Original Score – Motion Picture.
Danny Elfman took home the evening's most awards, with four BMI Crystals for Meet The Robinsons, Charlotte's Web, Nacho Libre and Desperate Housewives. Composer Theodore Shapiro took home three awards for The Devil Wears Prada, Blades of Glory and You, Me and Dupree; and Pete Townshend (PRS) was once again a triple winner for CSI, CSI: Miami and CSI: NY .
Composers who took home two awards were Teddy Castalucci for Wild Hogs and Little Man; Charlie Clouser for Saw III and Numb3rs ; Harry Gregson-Williams for Flushed Away and Déjà Vu; Rupert Gregson-Williams for Over The Hedge and Click ; and Aaron Zigman for Step Up and Bridge To Terabithia. Other award winners were Jeff Beal for Ugly Betty ; Rolfe Kent and Daniel Licht for Dexter ; Bruce Hanifan for Deadliest Catch ; Steve Jablonsky for Desperate Housewives ; Alex Wolff, Michael Wolff and Nat Wolff for The Naked Brothers Band ; Carim Clasmann (PRS) and Galia Durant (PRS) for Grey's Anatomy; Dain Blair and Tony Phillips for the hit series Deal Or No Deal, and many others.
Below is the complete list of 2007 BMI Film/TV Awards winners:
BMI Richard Kirk Award

George S. Clinton

BMI Classic Contribution Award

Lucas Richman

BMI Film Music Awards

David Arnold: Casino Royale
Tyler Bates: 300
Teddy Castellucci: Wild Hogs
Teddy Castellucci: Little Man
George S. Clinton: The Santa Clause 3: The Escape Clause
Charlie Clouser: Saw III
Mychael Danna: Little Miss Sunshine
Alexandre Desplat (Sacem) The Queen
Danny Elfman: Meet The Robinsons
Danny Elfman: Charlotte's Web
Danny Elfman: Nacho Libre
Harry Gregson-Williams: Flushed Away
Harry Gregson-Williams: Déjà Vu
Rupert Gregson-Williams: Over The Hedge
Rupert Gregson-Williams: Click
John Murphy (PRS): Miami Vice
David Newman: Norbit
John Ottman: Superman Returns
Theodore Shapiro: The Devil Wears Prada
Theodore Shapiro: Blades Of Glory
Theodore Shapiro: You, Me And Dupree
Alex Wurman: Talladega Nights: The Ballad Of Ricky Bobby
Christopher Young: Ghost Rider
Aaron Zigman: Bridge To Terabithia
Aaron Zigman: Step Up

Oscar Award Winner

Gustavo Santaolalla: Babel

Golden Globe Award Winner

Alexandre Desplat (Sacem): The Painted Veil

BMI Television Awards

Chris Daughtry: American Idol
Carim Clasmann (PRS): Grey's Anatomy
Galia Durant (PRS): Grey's Anatomy
Pete Townshend (PRS): CSI
Danny Elfman: Desperate Housewives
Steve Jablonsky: Desperate Housewives
Robert Del Naja (PRS): House
Grantley Marshall (PRS): House
Andrew Vowles (PRS): House
Kevin Kiner: CSI: Miami
Pete Townshend (PRS): CSI: Miami
Mark Mancina: Criminal Minds
Bill Brown: CSI: NY
Pete Townshend (PRS): CSI: NY
Brian Kirk: NCIS
Chuck Lorre: Two And A Half Men
Dain Blair: Deal Or No Deal
Tony Phillips: Deal Or No Deal
Joel Wachbrit: Shark
Peter Manning Robinson: Without A Trace
Mike Post: Law & Order: Svu
Jeff Beal: Ugly Betty
Martin Davich: ER
David Schwartz: Rules Of Engagement
Rob Cairns: Extreme Makeover: Home Edition
Charlie Clouser: Numb3rs
Chris Wagner: The New Adventures Of Old Christine

Emmy Award Winners

Edward Shearmur: Masters Of Horror
Chris Biondo: National Geographic Explorer - Deadly Love
Harry Leonard Williams: National Geographic Explorer - Deadly Love
Greg O'connor: "A Wonderfully Normal Day" From MADTV
Jim Wise: "A Wonderfully Normal Day" From MADTV
Bradley Hatfield: "Sunshine" From THE YOUNG AND THE RESTLESS

BMI Cable Awards

Natasha Bedingfield (PRS): The Hills
Danielle Brisebois: The Hills
James Levine: The Closer
Alex Wolff: The Naked Brothers Band
Michael Wolff: The Naked Brothers Band
Nat Wolff: The Naked Brothers Band
Howlin' Wolf: The Sopranos
James Johnston: WWE Raw
Bruce Hanifan: Deadliest Catch
Terri Nunn: Angela's Eyes
Mitchell Sigman: Angela's Eyes
Steve Hampton: The Suite Life Of Zack And Cody
Gary Scott: The Suite Life Of Zack And Cody
Gwendolyn Sanford: Weeds
Gary Stockdale: Penn & Teller: Bullshit!
Rolfe Kent: Dexter
Daniel Licht: Dexter
Matt Koskenmaki: The Ultimate Fighter
Jarrid Mendelson: The Ultimate Fighter
James Levine: Nip/Tuck