IPI stands for: Interested Parties Information
CAE stands for: Composer, Author and Publisher
The IPI/CAE number is a publicly accessible international identification number used to identify participants on a work. Writers and publishers will be assigned a unique number for each name/AKA on file with BMI. Therefore, writers with multiple names/AKAs will have multiple numbers.
You will register works using the IPI Number associated with the name/AKA you would like to appear on the new work. Regardless of the IPI Number you decide to use, the royalties will all be directed to your BMI account.
You can locate your IPI numbers TWO ways:
1. OLS – IPI Numbers are now available in Online Services! You can find your IPI number by logging into Online Services and selecting "IPI Number" from the Applications menu on the left side of the page.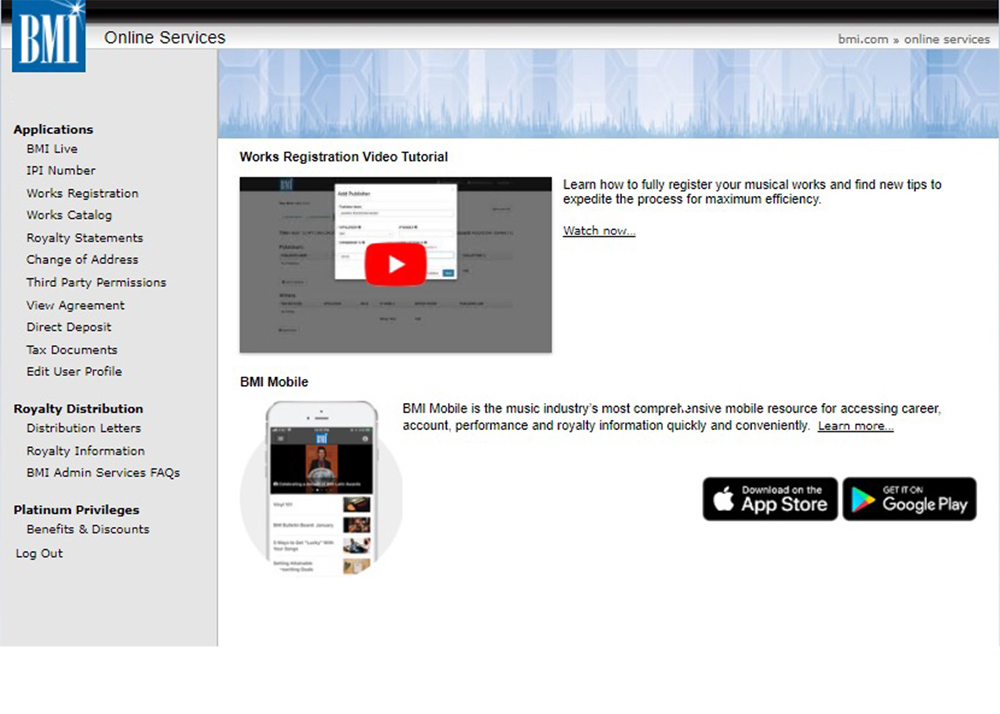 If you only have one BMI account, you will be taken directly to your IPI information.
If you have multiple BMI accounts, select the account from the drop-down menu and the screen will update with your IPI information. In the example below, this person has access to their BMI writer and publisher accounts.

Your legal name and any AKAs registered with BMI will be listed on this screen.

2. By searching BMI | Songview.
a. Select "Writer/Composer" from the drop-down menu, and search for your name to find your IPI #.
b. Similarly, you can also select "Publisher" to find a publisher account IPI #.