January 31, 2011
BMI 8 off 8th Showcase: Nashville
Sponsored by BMI, New Belgium Brewing Company, and Yuengling, "8 off 8th" free showcase will be held at Nashville music venue Mercy Lounge (1 Cannery Row off 8th Avenue South) at 9:00 PM. Whether it's launching fledging acts fresh out of the garage or showcasing the latest buzz bands, 8 off 8th's rapid-fire three-song sets satisfy audiences chasing the next big thing.
Hosted by Daniel Tashian, featuring performances by:
Judson Spence
Kate York
Mindy Smith
Silver Seas
The Nobility
Tyler James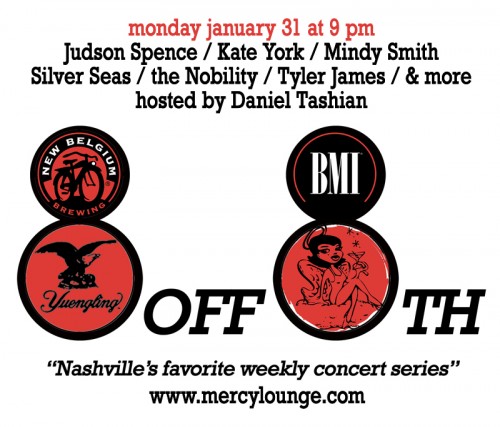 Subscribe to BMI's The Weekly
Each week, Learn, Listen, Watch, Discover and Share with BMI! From must-see videos, to creative inspiration and dynamic playlists we're excited about, BMI's The Weekly is dedicated to delivering specially curated content designed for music creators and music fans alike!