April 9, 2010
BMI Presents Music 101 Artist Development: New York
BMI presents Music 101: Artist Development panel at Clinton Recording Studios (653 10th Avenue @ 46th Street, New York, NY ) from 7:30-9:30 PM. Moderated by Bevy Smith, Lifestyle Expert, panelists will include:
Laurieann Gibson (Creative Director, Choreographer)
Ashaunna Ayars (VP Marketing, Island Def Jam Music Group)
Troy Taylor (Producer/Writer/CEO of Songbook Entertainment)
De Juan Wilson (Global Brand Director, Converse One Star)
RSVP to: NYMusic101@bmi.com no later than April 8th.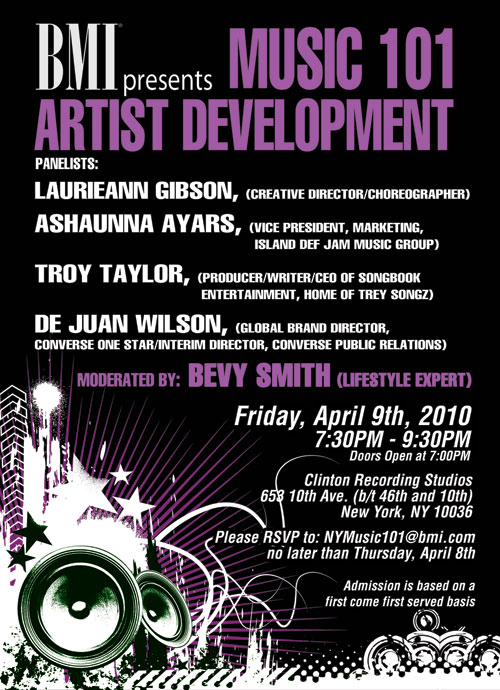 Subscribe to BMI's The Weekly
Each week, Learn, Listen, Watch, Discover and Share with BMI! From must-see videos, to creative inspiration and dynamic playlists we're excited about, BMI's The Weekly is dedicated to delivering specially curated content designed for music creators and music fans alike!