March 18, 2009
BMI Presents "A Conversation With The Industry": New York
BMI invites you to have an intimate conversation with some the top music industry executives, songwriters and producers as they share their experience and knowledge of today's music business at Clinton Recording Studios, 653 10th Avenue (46th St. and 10th), New York City, 7:00-9:00 p.m.
Moderated by Bonsu Thompson (CulturalEngineer/Journalist - XXL/KING/Dreamz R Real Ent) and featuring Jennifer Blakeman (Sr. VP for Universal Music Publishing), Kwame (Music Producer), Frankie Storm (Songwriter), Jeff Fenster (Sr. VP of A&R for Jive Records), Music Producers Trackmasters (Tone & Poke), and David "Touch" Wright (Director of A&R for Def Jam Records).
Hors d'oeuvres and beverages to be served.
DUE TO LIMITED SPACE, PLEASE ARRIVE EARLY TO GUARANTEE ADMITTANCE
Please rsvp to industrypanel@bmi.com.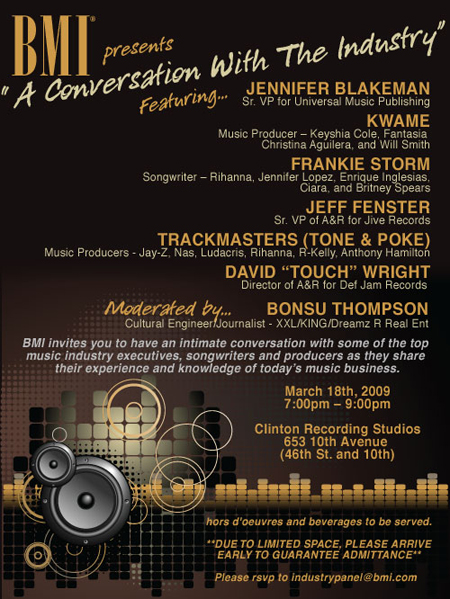 Subscribe to BMI's The Weekly
Each week, Learn, Listen, Watch, Discover and Share with BMI! From must-see videos, to creative inspiration and dynamic playlists we're excited about, BMI's The Weekly is dedicated to delivering specially curated content designed for music creators and music fans alike!