April 24, 2008
BMI Atlanta's Unsigned Urban Showcase
Congratulations to the following people selected to perform at BMI Atlanta's Unsigned Urban Showcase!
Unsigned Finalists (In no certain order):
Jarren Benton | myspace
Brandon Hines | myspace
Holly Weerd | Holly Weerd">myspace
Young Trimm | myspace
BMI Atlanta's Unsigned Urban Showcase will be held at Luckie Lounge on Thursday, April 24th.
Special guests Teyana Taylor and Lil Wayne will be headlining the show.
Don't Miss It!
BMI Unsigned Urban Showcase
Thursday, April 24th
Luckie Lounge
375 Luckie Street
Atlanta, GA 30313
Doors Open: 8pm
Show Starts: 9pm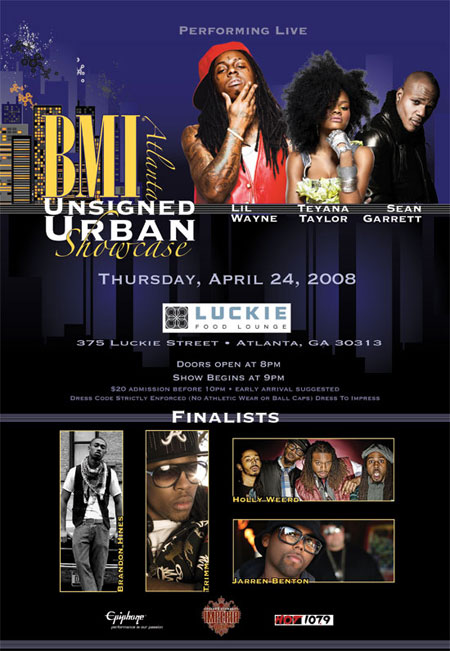 Subscribe to BMI's The Weekly
Each week, Learn, Listen, Watch, Discover and Share with BMI! From must-see videos, to creative inspiration and dynamic playlists we're excited about, BMI's The Weekly is dedicated to delivering specially curated content designed for music creators and music fans alike!