October 30, 2007
BMI Pick of the Month: New York
BMI Pick of the Month presents My Getaway at The Annex (152 Orchard Street, NYC) at 7:00 p.m. Admission: $8.00
My Getaway is fast-tracking out of Central Florida and is comprised of five best friends. This past summer, My Getaway recorded in Chicago with producer, Marc McClusky (Powerspace, Hit the Lights, Ludo). The band recently had their final product mixed by Jeff Juliano (Lifehouse, Jason Mraz, John Mayer). With their live show, "being an excellent display of raw emotion, bursting with enthusiasm", the boys are excited about the future and their potential.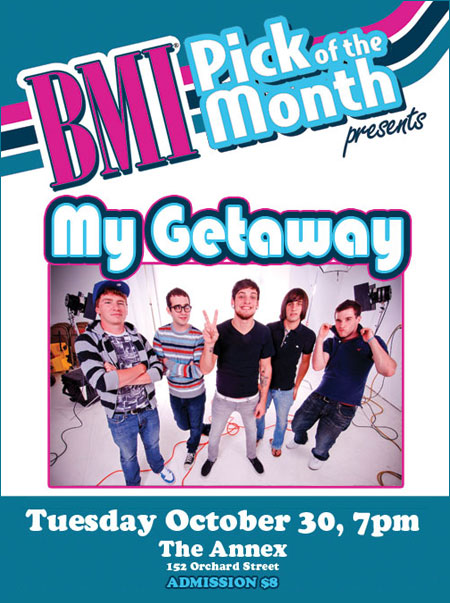 Subscribe to BMI's The Weekly
Each week, Learn, Listen, Watch, Discover and Share with BMI! From must-see videos, to creative inspiration and dynamic playlists we're excited about, BMI's The Weekly is dedicated to delivering specially curated content designed for music creators and music fans alike!