February 10, 2007
BMI "How I Wrote That Song" Panel: Los Angeles
BMI and the Los Angeles Times present "How I Wrote That Song," a panel discussion with some of music's most successful songwriters. The panel will be held at 2 p.m. at the Key Club (9039 Sunset Blvd.) in celebration of Grammy Week. Tickets are $10 and are on sale now through Ticketmaster at www.keyclub.com, or at the Key Club box office.
Scheduled to participate are top BMI songwriting talents including John Legend (JUST ADDED!!), Cee-Lo (Gnarls Barkley), Dallas Austin, Patrick Stump (Fall Out Boy), Sean Garrett, Kara DioGuardi, Butch Walker and Jeffrey Steele, who will join panel moderators Los Angeles Times music critic Ann Powers and Atlanta Writer/Publisher Relations VP Catherine Brewton. Attendees can expect an inside look at the songwriting process, featuring performances of hit songs by each panelist and a Q&A session on the business of songwriting and music.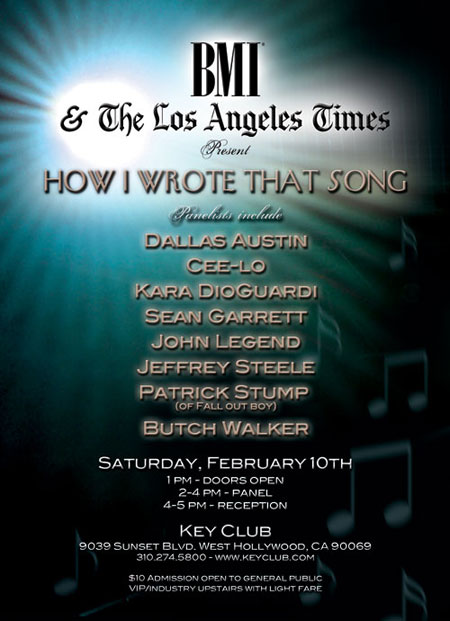 Subscribe to BMI's The Weekly
Each week, Learn, Listen, Watch, Discover and Share with BMI! From must-see videos, to creative inspiration and dynamic playlists we're excited about, BMI's The Weekly is dedicated to delivering specially curated content designed for music creators and music fans alike!